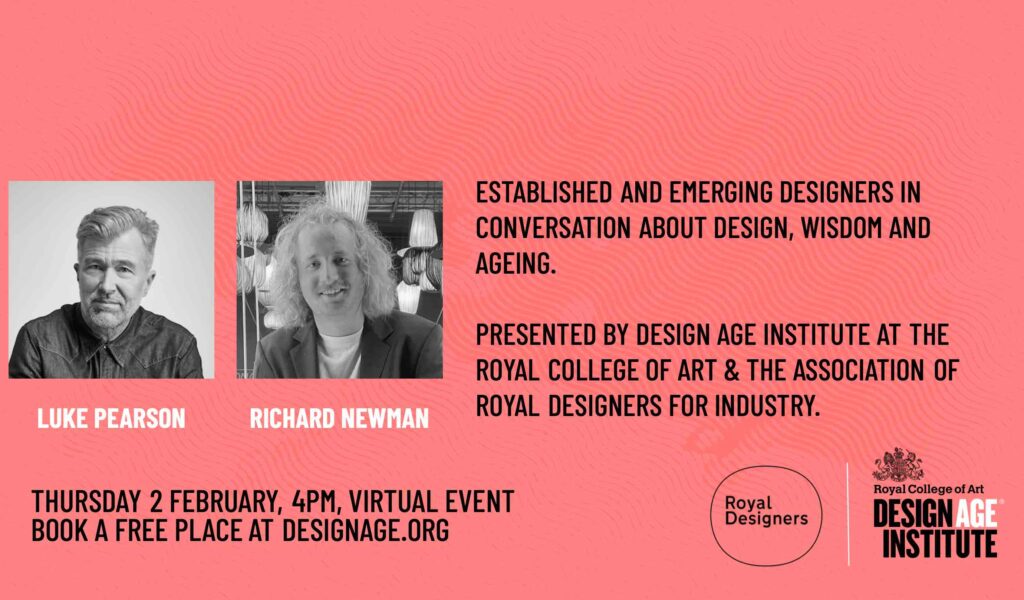 The Wisdom Hour: Transport
Published:
Presented by Design Age Institute and the Association of Royal Designers for Industry (RDI), designer and RDI Luke Pearson sits down with Royal College of Art MA Intelligent Mobility student Richard Newman for a discussion on wisdom, ageing, and designing for a more mobile world.
Date: Thursday 02 February 2023, 4pm
Venue: Zoom webinar
Tickets: Free to book
---
For this session of The Wisdom Hour, Luke Pearson, designer and co-founder of design studio Pearson Lloyd, sits down with Richard Newman, Royal College of Art MA Intelligent Mobility student for a not-to be missed discussion designing transport and mobility innovations for every age.
Following our inaugural Wisdom Hour session with fashion designers Betty Jackson and Ellen Fowles in October 2022, Design Age Institute is pleased to once again bring together an experienced designer from the Association of Royal Designers for Industry (RDI) and a emerging designer from the Royal College of Art, as part of a series of conversations exploring design, experience, ageing, and wisdom.
This session was inspired by the launch of our Transport Pathfinder Innovation Programme, with up to £120k in funding available for projects that reimagine transport options for later life.
Speaker Bios
Luke Pearson, RDI
Luke Pearson is Co-Founder and Director of Pearson Lloyd; award-winning product, furniture and innovation design studio, featuring clients such as Lufthansa, ThyssenKrupp, BENE, TAKT, City Of Bath, & Teknion.
Regularly serving on international panels at design events throughout the world, and juries for design competitions, Luke is currently a member of the independent Design Advisory panel for High Speed 2 (HS2) rail network, and advisor for Asia Design Platform (ADP).
Alongside Tom Lloyd – of Pearson Lloyd – Luke was awarded the distinction of Royal Designer for Industry by The Royal Society of Arts, and subsequently went on to be named in the top 50 designers 'Shaping the Future' by Fast-Co Magazine in New York. In 2022 Luke was bestowed as Honorary Doctor of Design by Nottingham Trent University.
Richard Newman, RCA MA Intelligent Mobility 2023
Richard Newman is an emerging designer from Coventry, UK. After achieving a Bachelor of Arts degree in Automotive Design from Coventry University, he started studying for his master's at the Royal College of Art in the Intelligent Mobility programme. This is where his design practice has explored visions of the ways in which we see and interact with mobility, experimenting with key themes and ideas around sustainability, luxury, and culture.
Colum Lowe, Director, Design Age Institute / Host
Colum is a senior design leader with a significant track record of developing inclusive products and services in the private, public and charitable sectors. In 2020 Colum joined the Helen Hamlyn Centre for Design at the Royal College of Art as Director for Design Age Institute. He has been Head of Design at the Ministry of Justice, Sainsbury's, Homebase and the NHS National Patient Safety Agency, and has run design firms Crabtree Hall, CaulderMoore as well as his own consultancy.
About The Wisdom Hour
What is the perfect age for a designer? It often seems that in the world of design you are either out of touch or too inexperienced. Yet in our complex and ever changing world, designers of all ages are needed more than ever to bring their unique experiences and skills to solve today's significant challenges. From what we wear to how we shop to our homes and workplaces, designers have the power to shape how we live, work and grow older with agency and joy.
Each session of The Wisdom Hour features a Royal Designer for Industry in conversation with an emerging designer from the RCA to explore the role of age and wisdom in designing a better world for our future selves. Conversations will be facilitated by Design Age Institute.