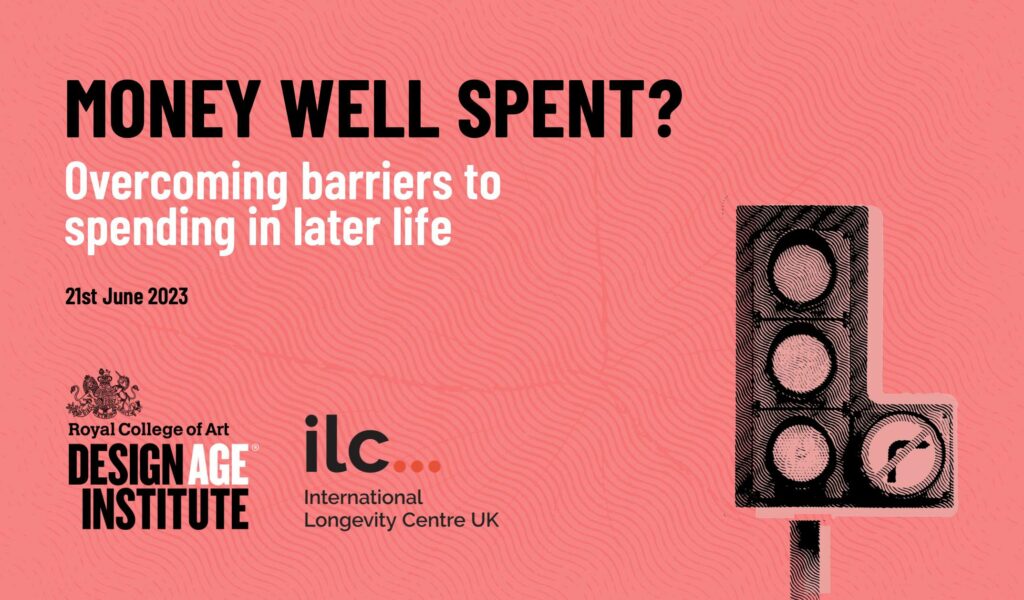 Published:
Watch our webinar exploring the barriers which stop us from spending the way we want to as we get older, and launches a joint report produced with our partners at the International Longevity Centre UK: 'Money well spent? Overcoming barriers to spending in later life.'
Older consumers are an increasingly important part of our economy. By 2040, 63p out of every pound in the UK will be spent by someone aged 50 and over, with total spending by this group estimated to be worth £550 billion. But older consumers are also spending less and saving more, regardless of income.
In this launch event, our panel discussed these barriers to spending in later life and how design and policy can help us overcome them. In our qualitative interviews, one person responded by saying that it comes down to access, and our panellists expand on this by calling for more elegant access. Advocating for policies that help us access financial guidance, and inclusive design processes that lead to accessible and desirable products, services, and environments may help people spend their time and money in ways that support and enhance our health and our happiness in later life.
Thank you to our webinar attendees for listening, commenting, and asking questions. We had comments from personal experience reiterating the need for and importance of accessible experiences, transport and travel options, public toilets, and seating, reinforcing the recommendations in the report. Attendees also shared resources such as The Chatty Cafe Scheme and Happy to Chat benches to combat loneliness.
Two questions were asked that we did not have time to answer during the session. One asks for examples of Return On Investment for retailers who have designed for ageing? And the other asks how we encourage and incentivise designers, placemakers and developers to design to routinely meet best practice and go beyond minimum regulatory standards? These are important questions to reflect on. Here are a few examples of both the value that comes from designing inclusively and why we might be incentivized to do so:
The 'Retail therapy – Dementia and spending' report from ILC in 2022 found that "the UK economy could see a boost of around £948 million if we simply made our spending environments more inclusive to those living with dementia and other cognitive impairments."
Motionspot designed and supplied accessible suites and elegant access features in communal areas of Manchester's Hotel Brooklyn, leading to £217,000 additional revenue in the first full trading year.
This New London Architecture (NLA) report outlines London Legacy Development Corporation's (LLDC) commitment to inclusion created a culture of access across the entire Olympic site, where community participation, inclusion, and equality were at the heart of the approach. "As a public body LLDC is required, under the Public Sector Equality duty, to promote equality and be transparent about how this is delivered. Beyond organisational strategic commitments encouraging inclusion as a baseline, what has set this project apart is the creation of Inclusive Design Standards used as 'good practice' benchmarks, engagement with the Built Environment Access Panel (BEAP) and the involvement of the LLDC's development partners in continuous dialogue. This has delivered inclusive innovation."
For more from the International Longevity Centre you can sign up to the ILC newsletter, and follow on Twitter or LinkedIn.
ILC  would also like to invite you to the Future of Ageing 2023: An age of possibilities conference, on Thursday 7 December, 9.00am – 5.00pm (GMT).
You can find details of upcoming opportunities from Design Age Institute on our website and follow us @DesignAge_ on Twitter, Instagram & LinkedIn.  Email us at [email protected].