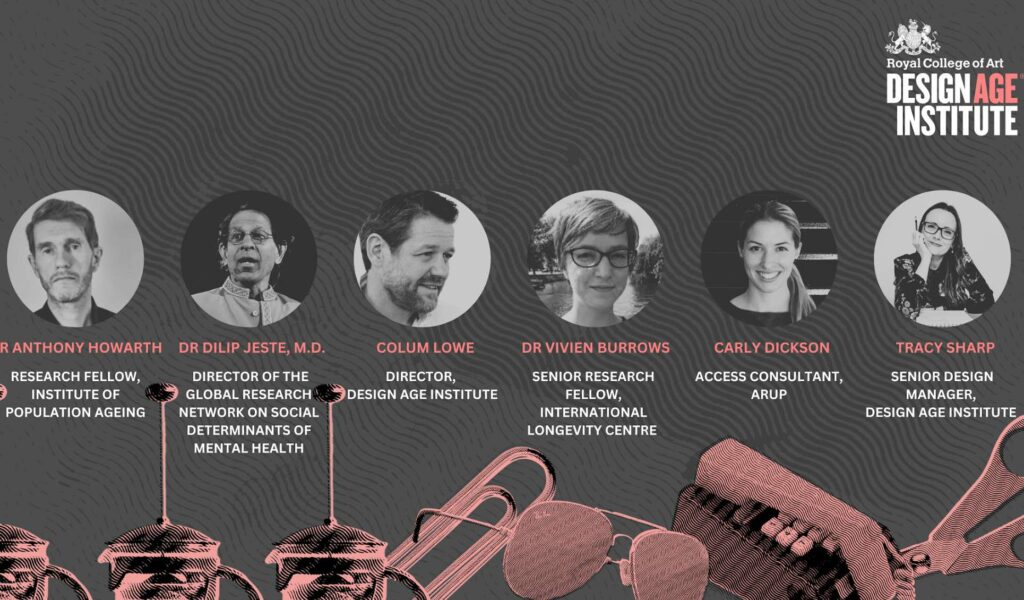 Published:
Meet the inspiring team delivering our upcoming Masterclass in Designing for An Ageing Population on 27-28 November at the Royal College of Art in Battersea!
Discover a new way to think about ageing and how to design services and products for older adults through innovative methodologies and frameworks in a Masterclass in Design for an Ageing Population. Meet the delivery team below and sign up now – space is limited!
Participants will receive a complimentary copy of our new report Design Age Ideas, which explores research and provocations on designing for happier and healthier ageing from Design Age Institute and our partners.
The Masterclass runs from 27-28 November 2023 at the Royal College of Art, Battersea. Limited places are available, and can be booked here.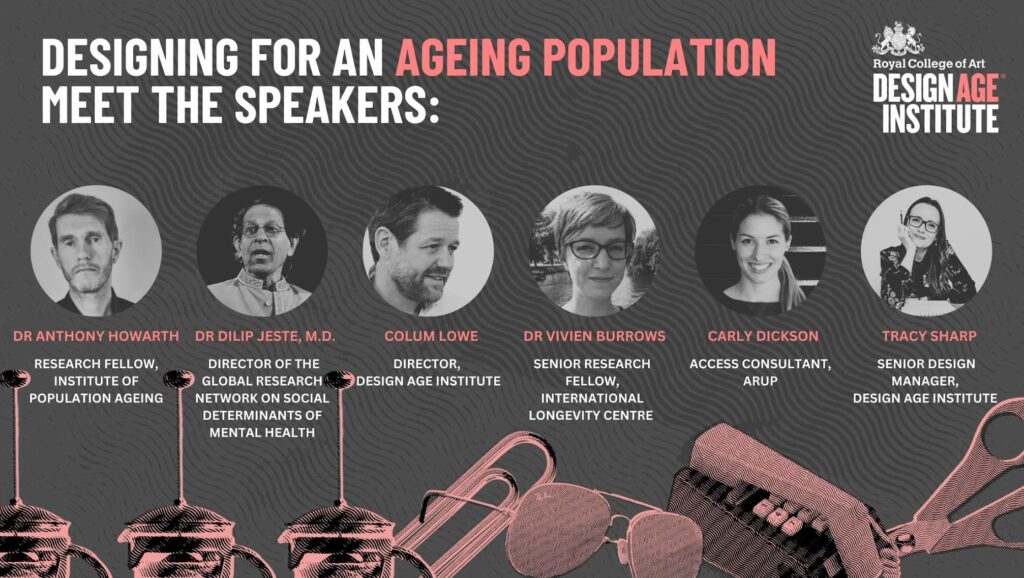 Dr. Vivien Burrows, Senior Research Fellow, International Longevity Centre
Vivien joined the ILC in December 2022 as a Senior Research Fellow. Before this, she worked as an Associate Professor in Economics at the University of Reading. Vivien has a PhD in Economics from the University of York, which she completed in 2012.
Vivien has a particular interest in household financial decision-making and financial wellbeing, and how wealth transfers between family members affect the accumulation of wealth and wealth inequalities. She is also interested in the causes behind the differences in retirement income between men and women, and how this gender pension gap has evolved over time.
Her recent work includes a book chapter on 'Families, housing and economic security', published in the Routledge edited volume Families, Housing and Property Wealth in a Neoliberal World, and a participatory research project exploring the impact of young onset dementia on financial wellbeing. Vivien has also been working on a textbook on the economics of the public sector for Oxford University Press, which includes dedicated chapters on healthcare, and ageing and pensions.
Carly Dickson, Access Consultant, Arup
Carly is a designer, researcher and advocate focused on creating and promoting radically accessible, wildly engaging experiences for people of all ages and abilities. She is an Access Consultant on Arup's Accessible and Inclusive Environment's team and co-leads a Design Think Tank at the London School of Architecture.
Carly previously worked on Design Age Institute's team as a Knowledge Exchange Fellow in 2022, sharing the Institute's work and supporting new opportunities to collaboratively create more desirable products, services, and environments that enable healthy and happy ageing.
Prior to joining Design Age Institute, Carly worked across various design and research roles, most recently as an architectural designer at Alison Brooks Architects and as the co-author and designer of the book Just Living: Homes for Our Future Selves. She has also worked as a design researcher for the MIT AgeLab and an inclusive design consultant for Motionspot.
Carly graduated with a Masters in Architecture from the Harvard Graduate School of Design in 2017 and a B.A. in Architectural Theory from Harvard College in 2012.
Dr. Anthony Howarth, Research Fellow, Institute of Population Ageing
Dr Anthony Howarth is a Research Fellow at the Institute of Population Ageing, a Research Associate at University College, and a Research Affiliate at the Institute of Social and Cultural Anthropology, at the University of Oxford. His current research
focuses on how the relationship between design, place-making, and intergenerational living might enable healthy ageing through improving well-being and tackling loneliness. Taking an interdisciplinary approach, this project examines whether, and in what ways, architectural design and intergenerational programs can facilitate beneficial relationships between different generations and, in doing so, enhance their health and quality of life. He is also interested in interventionism as an ethnographic object of study.
Anthony has a long-term interest in 'nomads' and the broader socio-political conditions in which they live. In this context, he has conducted research with Travellers and Gypsies in Europe and Tibetan 'nomadic' pastoralists/traders in Far- West Nepal. Beyond academia, he has worked with NGOs and legal actors on policy-related issues affecting Travellers and Gypsies.
Dr. Dilip V. Jeste, Author of Wiser: The Scientific Roots of Wisdom, Compassion, and What Makes Us Good.
Dilip V. Jeste, M.D. is Director of the Global Research Network on Social Determinants of Mental Health, President-Elect of the World Federation for Psychotherapy, and Editor-in-Chief of the International Psychogeriatrics. He is Former Senior Associate Dean for Healthy Aging and Senior Care and Distinguished Professor of Psychiatry and Neurosciences at University of California San Diego.
Dr. Jeste has been Principal Investigator on a number of research and training grants, mostly from the NIH and VA. His main areas of research include schizophrenia, neuropsychiatric interventions, and healthy ageing. He has published 15 books, including "Wiser", "Positive Psychiatry", and "Successful Cognitive and Emotional Aging", and over 750 articles in peer-reviewed journals. He has been listed in the Institute of Scientific Information's list of the World's Most Cited Authors. He is Past President of the American Psychiatric Association (APA) and American Association for Geriatric Psychiatry.
He has also received Honorary Fellowship, the highest honour it bestows, from UK's Royal College of Psychiatrists; and Honorary Professorship from Universidad Peruana Cayetano Heredia, Lima, Peru. He has been a TEDMED speaker. His work has been cited in Time, The Atlantic, New York Times, The Washington Post, Wall Street Journal, The London Times, Public Radio International, NPR, and various other national and international media outlets.
Colum Lowe, Director, Design Age Institute
Colum is a senior design leader with a significant track record of developing inclusive products and services in the private, public and charitable sectors. He has been Head of Design at a range of organisations, including the Ministry of Justice, Sainsbury's, Homebase and the NHS National Patient Safety Agency, where he delivered a multi-partner programme to advance the patient safety agenda for the NHS.
Colum has worked closely throughout his career with marginalised user groups, including those with age-related physical and mental frailty. His experience includes running the design firms Crabtree Hall and CaulderMoore, as well as his own consultancy and founding the Independent Safeguarding Service CIC. Colum also spent 15 years helping the Design Council to develop and deliver its flagship design intervention programme, Designing Demand. He holds an MBA in Design Management from the University of Westminster and originally trained as a product designer at Chelsea School of Art.
Tracy Sharp, Senior Design Manager, Design Age Institute
Tracy is a Senior Design Manager and has over 15 years of experience in engineering, manufacturing and product development for household name brands.
Managing the design projects being funded by the Design Age Institute, Tracy will provide insights, direction and coaching to the entrepreneurs using her rich experience in developing products to production.
As a design engineer Tracy has worked in many industries honing her expertise in design and developed her role into leadership. Her interest in inclusivity has been enhanced by her experience of working as a woman in a male dominated field, and as an expatriate working in Asia and Europe.
She trained to become a coach to empower underrepresented people and started her business, SharpMinds in 2022.
The Masterclass in Designing for and Ageing Population runs from 27-28 November 2023 at the Royal College of Art, Battersea. Limited places are available, and can be booked here.