Published:
On August 17, 2023, The Helen Hamlyn Centre for Design and Design Age Institute proudly presented Design.Wisdom, a webinar exploring the relationship between design, wisdom and ageing.
A discussion exploring the intersection of wisdom, age, and design was held between Dr. Dilip Jeste, the acclaimed author of "Wiser: The Scientific Roots of Wisdom, Compassion, and What Makes Us Good" and Colum Lowe, Director of Design Age Institute, moderated by Carly Dickson, Knowledge Exchange Fellow at Design Age Institute.
The conversation explored the concepts of wiser designers and wiser consumers, with Colum advising designers to consider how age-related wisdom impacts our purchase decisions and our likelihood of engaging in health benefiting activities.
The benefits of a wiser society were also raised. Dilip's research suggests that cultivating, respecting, and exchanging wisdom may not only benefit our health and happiness as individuals but also collectively as a society.
At the forefront of the discussion was an exploration of the role design can play in supporting the exchange of wisdom between people of different ages and how this could help combat loneliness, ageism, and generational divides.
Dilip states: "wisdom not shared is wisdom not gained but lost." With that in mind, stay tuned for future DAI events as we continue to explore how wiser design can contribute to a wiser world.
You can view the full webinar here:
Want to learn more?
Take a look at Dr Dilip Jeste's book: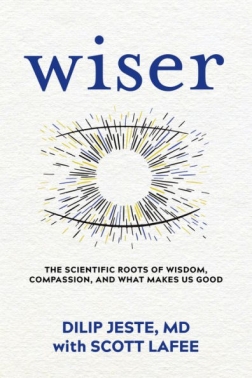 Finally, see Dr Dilip Jeste's Ted Talk on "Seeking wisdom in graying matter"