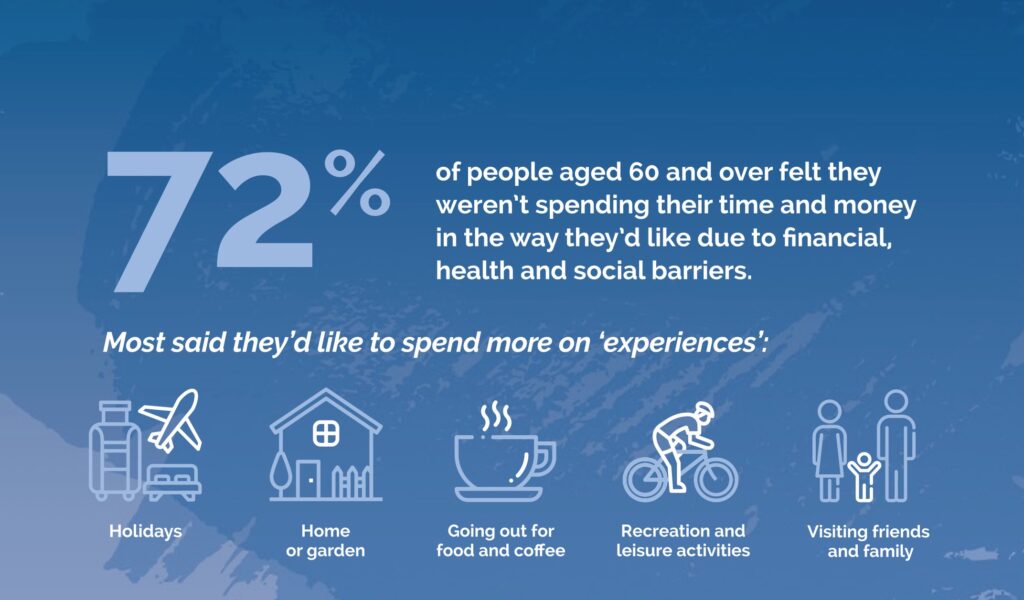 New Report: Money well spent?
Published:
Explore the findings from our latest collaborative research project with the International Longevity Centre – UK in a new report: Money well spent? Overcoming Barriers to Spending in Later Life.
Older consumers are an important part of our economy. By 2040, it's predicted that 63p in every pound spent by consumers in the UK will be spent by someone aged 50 or over: it's estimated that total spending by this group will be worth £550 billion.
But older consumers are also saving more. Research has found that, from around age 60 onwards, the proportion of people who save increases with age, as does the average amount saved. While 61% of people aged 60-64 save, this increases to 85% for people aged 80 and over, who are saving an average of £5,870 per year.
Why are older people saving more? Do their spending patterns in later life reflect what they really want to do, or do they face barriers to spending? The latest collaborative research project between the International Longevity Centre-UK and Design Age Institute at the Royal College of Art identifies the reasons people aged over 60 give for underspending. The Money well spent? report, also identifies practical steps that the Government, financial services, regulators, businesses, town planners, and designers can take to support spending in later life, including:
Ensuring better access to financial guidance and advice, and ensuring there are the right financial products to support consumption in later life
Designing better last-mile travel and encouraging all towns and cities to join the UK's Network of Age-friendly Communities
Recognising and rewarding accessible design, and making sure technology is used to enhance the shopping experience – both off and online.
This report draws on our analysis of a nationally representative survey of 1,008 adults aged 60 and over in the UK, which was carried out between February and March 2023, as well as interviews and user research carried out by Design Age Institute.