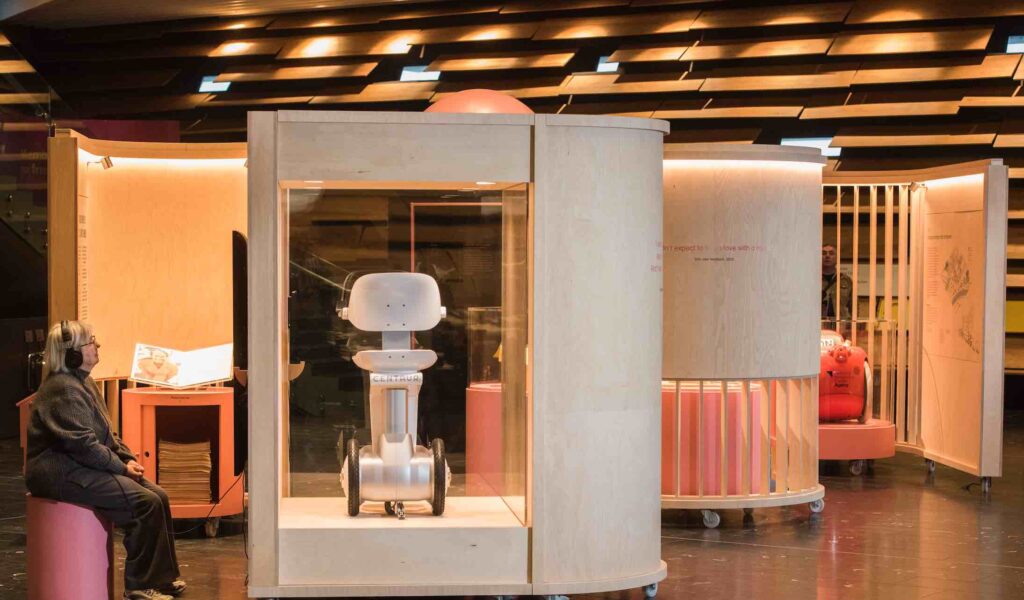 Published:
Our recent exhibit 'The Future of Ageing', co-curated with the Design Museum, will be open at the V&A Dundee between 12 October 2022 – 22 January 2023.
Following a successful run at the Design Museum, The Future of Ageing exhibit moves to V&A Dundee, inviting new audiences to explore how design can help and even enhance our lives as we age.
Curated by Design Age Institute in collaboration with the Design Museum, the exhibit explores how design is transforming the way society can support everyone to age with greater agency and joy.
The exhibition is a reminder that design and innovation for an ageing population not only offers solutions to the restrictions that ageing sometimes brings, but it can also satisfy the older consumer's needs and interests.
Visit the exhibit for free between 12 October – 22 January 2023.
We're thrilled to be sharing the innovative projects and research featured in the Future of Ageing exhibition with our audiences. The Design Museum and Design Age Institute have curated a thought-provoking exhibition which encourages us all to consider both the challenges and opportunities we experience later in life, as well as the important role of design in creating a more age-inclusive world.

Francesca Bibby, Assistant Curator at V&A Dundee
The Future of Ageing display allows us to demonstrate how design and innovation can transform our homes, workplaces, cities, and neighbourhoods to support us as we age. Getting older is not a singular story of decline, loneliness, and hardship – it also includes wisdom, maturity, confidence, abundance, and adventure. We are delighted to be able to bring the display to V&A Dundee, to open up a dialogue on the future of ageing with new audiences who possibly haven't considered the challenges and joys of later life.

Colum Lowe, Director, Design Age Institute
After a very successful run here at the Design Museum in London, we are delighted to be able to help bring the Future of Ageing display to audiences at the V&A Dundee. The challenges that come with ageing are something that will affect everyone across the whole United Kingdom, and so we're pleased to be highlighting these exciting design solutions to even more people across the country.

Josephine Chanter, Director of Audiences at the Design Museum
Image credit: Alan Richardson pix-ar