Company Biography
PRP is an interdisciplinary architectural practice, offering a full range of design and building services. Few know more about housing than PRP.
For over fifty-five years, PRP has been designing high quality buildings that enrich the lives of users and their communities. Whether regenerating inner-city estates, masterplanning new neighbourhoods or designing homes for older people, our ethos is always the same – intelligent, responsive and sustainable solutions, delivered with professionalism and total integrity.
PRP has a dedicated market-leading team of over 30 architects who operate entirely within the specialist housing and care sector, completing over 11,000 later living units and care home beds in the UK since 1998.
We work with housing associations, charities, local authorities and private developers, covering all stages of the design process from inception to completion. Our projects range from small specialist dementia care homes to large retirement villages in urban and rural setting, offering a range of tenures.
Our drive for design quality complements our expertise in this sector, resulting in award-winning, truly innovative buildings which are efficient to run and make a real difference to the people who live within them. We achieve this by understanding our client, their residents and the local context.
Thought Leadership: Following decades of collective practice in older people's housing, we are also informed opinion leaders:
• Regularly asked to speak at leading industry events and seminars.
• Provide expert comment/opinion in the press – we are the go-to later living experts for many publications.
• Contribute to design publications and books, as well as writing and producing bespoke design guidance documents for clients, local authorities and policy makers.
We have a collaborative approach to design, listening and engaging to understand and unlock the true potential of each site. We embrace ideas, innovation, art and engineering, to create truly distinctive places.
Landscape Design: We have established a recognised expertise in the design and delivery of responsive outdoor environments for later living communities. Our landscape architects understand that well-designed, adaptable outdoor space can contribute significantly to the vitality and wellbeing of residents in later living communities. We have worked extensively in this sector designing environments that actively encourage older residents to enjoy outdoor spaces.
Discipline
Architecture, Research
Work showcase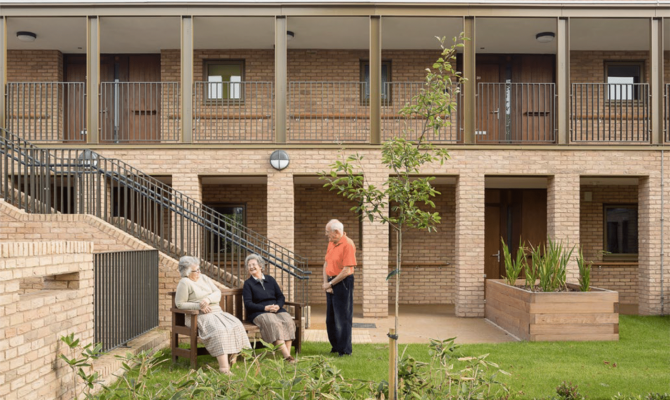 Pilgrim Gardens, 2013
The Pilgrims' Friend Society has been providing housing and care to elderly Christians at Pilgrim Gardens in Evington, Leicester, since the 1950s.
The new development of 31 assisted living apartments embraces all of the HAPPI recommendations and replaces outdated bungalows adjacent to a remodelled care home.
The two-storey building has been designed to address the existing care home and create a secure courtyard garden. The new building is connected to the existing care home via a covered link which provides cover and shelter to the entrances of each building whilst securing and containing the central landscaped garden. The entrance is a dynamic space with a double-height atrium, seating, and hair salon with views into the communal lounge, terrace and courtyard garden beyond. The communal lounge is a single storey building within the courtyard thereby enabling a generous floor to ceiling height with a green roof.
A covered outdoor area provides a sheltered loggia which leads onto to a generous terrace.
Dual-aspect apartments are accessed via sheltered colonnades at ground floor and gallery access at first. The layout is logical and calm, wrapping around the courtyard with constant views outside to aid orientation. Apartments are orientated to avoid north facing habitable rooms and all have balconies with sliding, folding winter gardens to enable year round use.
The landscape design for the garden has an oriental theme incorporating a sequence of distinctive spaces including a shaded moss garden, water terrace, Acer grove and a formal lawn with a retained mature Lime tree at the centre.
The planting scheme comprises a restrained palette of planting to create a sense of calm with contrasting textures and colours for sensory stimulation and seasonal variation.
Winner – Housing Project of the Year Building Awards 2014
Winner – HAPPI Completed Award Housing Design Awards 2014
Winner – HAPPI Project Award Housing Design Awards 2012