Company Biography
We are a multidisciplinary design company: a collective of designers, creative thinkers and practical makers, strategists and trend forecasters with a common vision to imagine and shape the future.
Human-centred at our core, we design products and services that are better for people, better for the planet and better for business.
Discipline
Digital, Graphic, Interiors, Product
Work showcase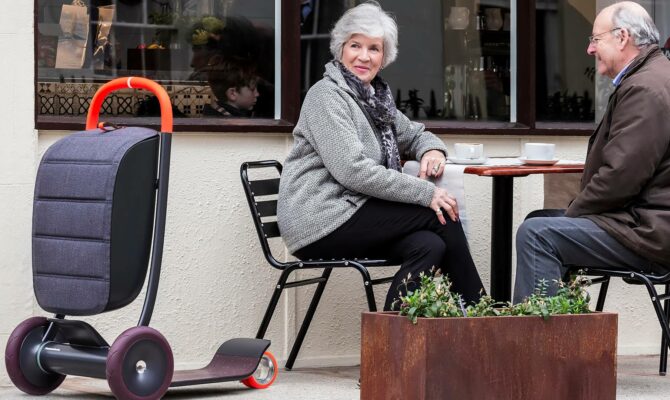 Scooter for Life, 2017
Scooter for Life is a project commissioned by the Design Museum as part of the New Old exhibition, initially unveiled in London in 2017. The exhibition has been touring around the world since. The Scooter for Life is a range of products to accompany you through your life and develop as your mobility needs evolve.
Challenge - Demographics around the world are changing, people are getting older, and many people in later life face mobility challenges. Meanwhile, there continues to be a stigma with mobility aids, and these objects are often bulky, inconvenient and degrading. The Design Museum tasked us with addressing the issue of mobility in older age. We challenged ourselves to design a product that would encourage people to stay active and mobile for longer, increase health, safety and independence, and counter the loneliness that many feel with old age.
Solution - Following extensive research and interviews with target user groups, we came up with a list of requirements that our proposed mobility solution would need to meet: you had to be able to take it on public transport, to take it into shops, it needed to be able to fold down, there needed to be space to store groceries, and it had to be able to be taken into a flat or a house. Based on these considerations, we developed the Scooter for Life, a full scale prototype of which was built for the exhibition.
The scooter is designed to offer a reliable product and brand that can accompany you throughout your life. Recognising that many behaviours are born out of habit, we designed the Scooter as an object that can be adapted as your needs evolve, from a regular micro scooter to one with extra wheels for stability, optional seat and electric power as well as integrated safety brakes for example. Aside from the health benefits, the Scooter also enables users to retain their independence for longer, and aims to counter loneliness by facilitating intergenerational interaction.