Pedder & Scampton Architects
Company Biography
Pedder & Scampton is a small, female owned Architectural practice specialising in the design and delivery of buildings for a wide range of disabilities and special needs including for the neurodivergent, the ageing and those with dementia. Our projects include small scale supported residential developments, day centres, training spaces, community hubs and private homes. We bring our specialist knowledge to design enjoyable, appropriate, cost effective buildings, both new build and refurbishment.
Our experience demonstrates that if the environment, whether it be a school or training centre, social space or one's own home, is appropriately designed, this contributes significantly to the quality of life of people with autism, mental health or physical disabilities, dementia or the restrictions that can occur with ageing. Considerately designed spaces allow more satisfying and productive lives with less stress, fewer incidents, and less spent on healthcare support and costly repairs.
We have completed a number of projects for charities as well as for London Boroughs including Haringey, Brent, Islington and Camden. We also work within larger teams on specific aspects of large scale redevelopments, act as inclusive design consultants on larger projects and lecture on the implications of neurodivergency for building design.
Work showcase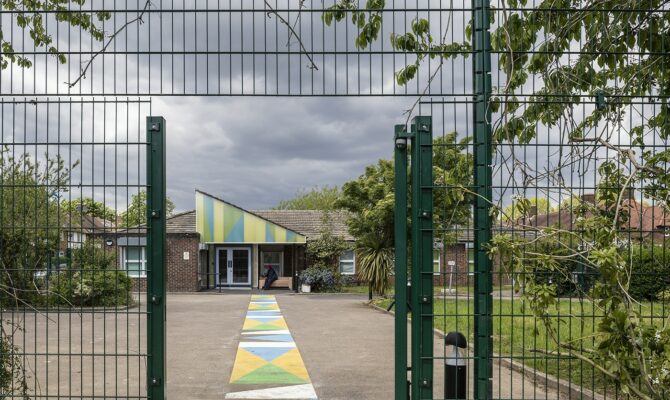 Chad Gordon Autism Campus 2021
Pedder & Scampton were commissioned by LB Haringey to transform two dilapidated former community buildings on a shared site into a new day centre for local residents with autism and complex learning disabilities and a support hub for Haringey residents with Aspergers (the first of its kind in Haringey). The design was a collaborative effort which included input from experts, carers, and the lived experience of service users' families to understand their aspirations and needs for the new spaces, combined with P&S's specialist design knowledge for this user group.
The remodelling has created a landmark for the community; on a tight budget retrofitting and sustainably re purposing buildings into two new facilities with a variety of welcoming and accessible spaces for group activities, with clear logical layouts, rooms for retreat and a training kitchen, all providing life skills training opportunities for the user group.
The brief required a design that was inclusive, had a distinctive, non institutional character with both quiet and lively bright colour schemes, and that connected the two separate buildings on the site to form a united campus. A range of room sizes and types can be adjusted by the staff to create differing 'moods' to suit users' sensory needs on any given day. The layouts are logical and clear with the appropriate 'pause' and retreat locations typically needed by this the user group.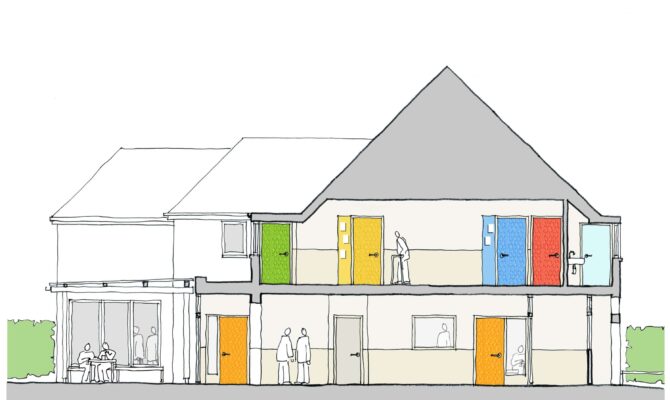 Supported Living - Korsakoff Syndrome 2018
We were commissioned by LB Brent to remodel a dilapidated semi detached house with dark, convoluted, circulation to create supported living accommodation for five residents with Korsakoff Syndrome (alcohol related dementia). Brent required a non institutional home that would support the residents to live as independent a life as possible. The brief was finalised after much debate with the client and fact finding visits to similar accommodation in other Boroughs. Issues that were discussed included 'should the hostel be wet or dry?' (wet), the requirement for a lift (no, a stair lift instead) and the level and nature of assistive technology to be provided (a moving feast).
Both floors of the house are reconfigured to create clear, simple circulation with as much natural light as possible, bedrooms with ensuite bathrooms laid out to meet the specific requirements of dementia and light and generous communal rooms. The interiors are neutral with an avoidance of strong patterns other than in a few defined areas. Resident's doors are picked out in strong colours with a personalised panel by each door for easy recognition. Generous living spaces allow residents to sit together or separately with further covered seating in the garden. The kitchen is arranged to allow residents to cook simple snacks if they are able.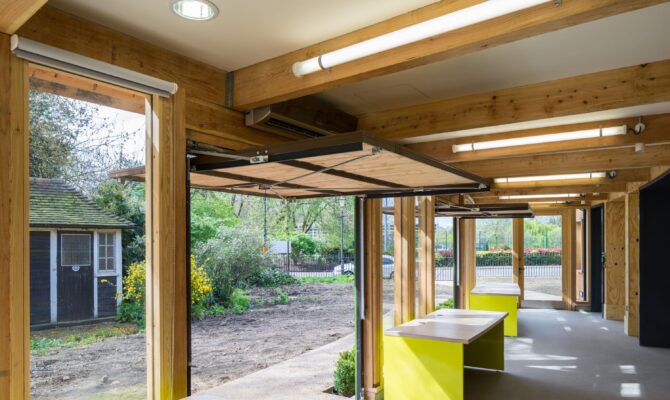 Horticultural Training Building 2015
This building for Thrive, a charity who offer horticultural therapy to local residents with a wide range of disabilities and special needs, replaces a collection of ramshackle huts in Battersea Park. The building needed to create inclusive and appropriate spaces for the 'Gardeners', be very sustainable and act as a visual marker for the Charity in the Park.
One striking aspect of the original accommodation was that the entrance door to the main space was left open all day – Gardeners were wearing outdoor clothes and boots and able to come in and out without worrying about opening or shutting doors or wiping their feet. We retained this freedom of movement by designing the orangery as a tempered space left open to the outside with access directly to the garden via two 'up and over' garage doors. This is a working space as well as acting as a lobby/circulation to the inner, heated, rooms which are all off the orangery –a sociable arrangement which encourages interaction and makes each room easy to find. A range of sizes and orientations of spaces gives a variety of environments to suit different users' needs – for example some are more secluded, some in the middle of things, some noisy, some quiet.
Aspects of the design that respond to the particular needs of the Gardeners include the view up into the tree canopy from the clerestorey windows to the inner rooms – this encourages users to look up and out rather than down, connects them with the outside world and improves awareness of the weather and the seasons; and the shallow wide tool sheds built into the external walls of the building – these allow each tool to have a dedicated space which helps with memory reinforcement and encourages users to help get things out and put them away at the beginning and end of the day.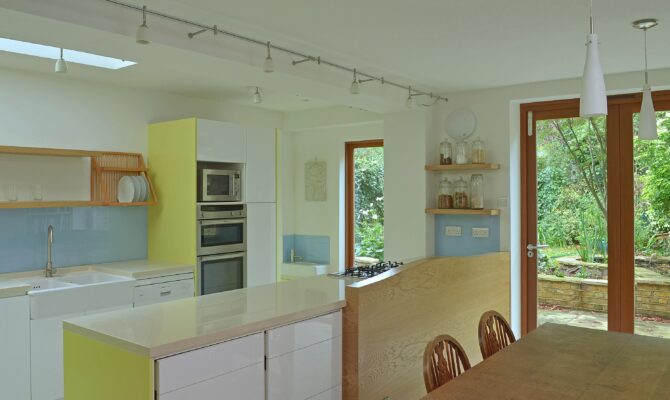 House Adaptations for Ageing 2014
A retired couple invited us refurbish several parts of their large family house. A key part of the brief was that the ground floor could be adapted to form a self-contained living space should they need to retreat to the ground floor in later life.
We applied Lifetime Homes principles to the works we did to the ground floor. We built a new extension onto the garden which allowed us to create a new ramped side access avoiding the steps up to the front door and with space for a mobility scooter. A generous kitchen dining room space has plenty of room for manoeuvre with a walking frame. The layout allows sociable cooking and eating with their extended family. An adjacent accessible shower room has carefully chosen fittings and finishes to avoid an institutional look. The dining room has level access directly onto a new garden patio bordered by a raised pond and planter beds.
An adjacent study can be converted to a bedroom when needed and opens onto a living room overlooking the street with the views and interest it provides.