Company Biography
Matter was formed in 2016 by Roland Karthaus and Jonathan McDowell and is an RIBA Chartered Practice.
Our projects cross all building types and scales, for public and private clients. This breadth provides a rich cross-fertilisation of ideas and knowledge for our projects, which have won numerous international and national awards, and been widely published.
We focus on designing buildings and places that are sensitive to context, enduring and sustainable to improve people's happiness and wellbeing. We firmly believe in the benefits of involving users and stakeholders in design and have great experience leading collaborative design processes. We conduct award-winning and innovative research on topics such as wellbeing, social justice, the environment and intergenerational housing.
Our research is often grant-funded or commissioned and is produced by multi-disciplinary teams of experts, led by us. In 2018 we won an RIBA President's award for our research in health and wellbeing in the Justice sector; and in 2019 we published an online resource called Rethinking Intergenerational Housing which has been driving change in the commissioning of housing for all ages. This work is intertwined with our teaching and research at the University of East London and City, University of London. We have designed an online training course for Scottish education charity, Generations Working Together on Intergenerational spaces and places and we have written and spoken widely on the subject.
Our design projects are both informed by and inform this research, including the design of supported and specialist housing with care, and community and educational facilities for people with special needs. We are working with the Almshouse Association to explore the future of charitable supported housing, we are active members of campaign group Stop Ageism, and we are key supporters of the intergenerational housing network, established by United for All Ages. We are also active members of the Urban Health Council, run by Centric Lab.
If you're interested in collaborating or working with us, please get in touch.
Discipline
Architecture, Research
Work showcase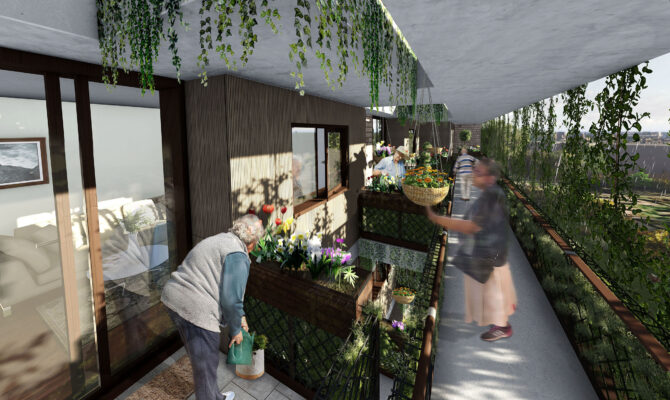 Dean Court Almshouses, Ealing – 2018
Redevelopment of an existing, low-rise almshouse estate in west London for Pathways Housing Trust. Through engagement with the existing residents, the scheme seeks to dramatically improve their living conditions and provide additional housing for the client's older, vulnerable adults.
The design is conceived as a framework for the health and wellbeing of the Pathways community; with the buildings literally acting as a trellis for planting, cultivated as a social activity.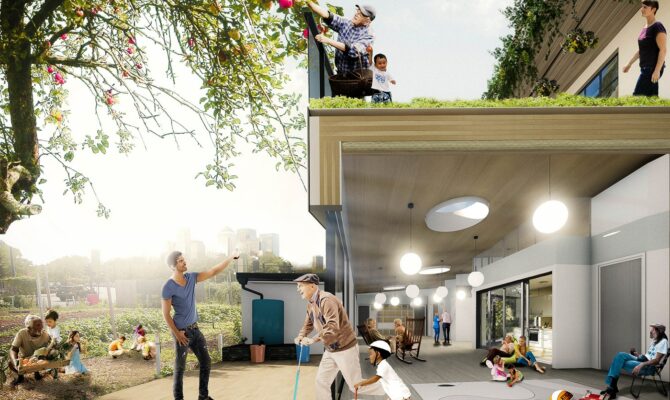 Rethinking Intergenerational Housing, Innovate UK – 2019
Intergenerational housing is a new idea based on an old model: people of different ages living together and sharing their skills and time. In the past, this tended to be within extended families, or tightly-knit local communities.  More recently, this idea has been introduced into some older people's housing.  Matter's idea is that such participation can be shared amongst unrelated people, living independent, modern lives and benefitting mutually.
Currently, housing provision is highly segregated, inflexible and often unsuitable, creating emerging crises in special needs and elderly care, affordability and loneliness. These all generate big costs for society. Our model seeks to tackle these through a social impact based approach.
Working with a current grant from Innovate UK and supported by a wide network of industry partners we are shaping a suite of policies and design principles for a new form housing for all ages, that supports and enables participation and sharing amongst residents.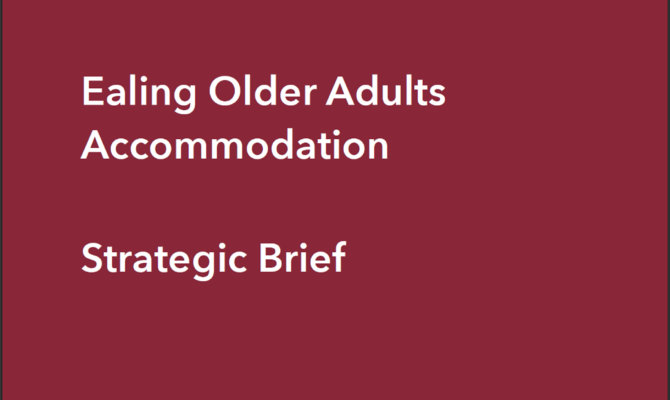 Ealing Older Adults Accommodation Strategy - 2021
Strategic brief for the redevelopment of Ealing's supported and sheltered housing sites, funded by the Mayor of London's Homebuilding Capacity Funding, which Matter helped the Council to secure. The innovative commissioning process was developed from our Rethinking Intergenerational Housing research, putting residents' needs at the heart of decision-making. A cross-departmental steering group, chaired by Adult Services applied social impact measures to ensure preventative design is embedded in the brief. An initial study of multiple sites identified a few town-centre sites suitable for consolidation of housing, whilst catering for a greater range of needs in a more supportive and sustainable environment. Adaptable 'plus-sized' homes form the core of each scheme with extra care, intergenerational and general needs housing incorporated across the sites, to support sustainable communities. The strategy is due to be published in June 2021 and the first phase is progressing towards a planning application later in the year.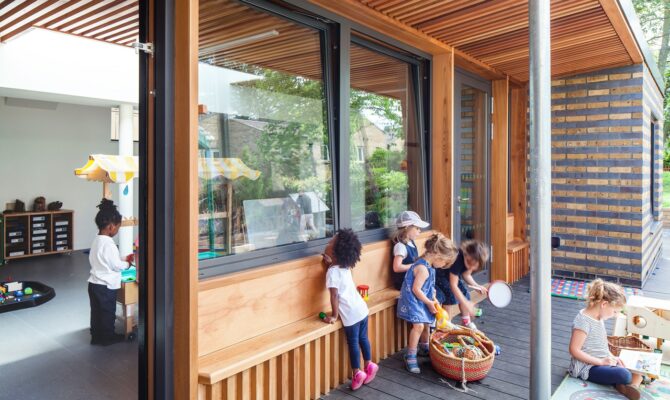 Clapham Manor Special Needs and Community Outreach programme - 2018
Masterplan and phased design of new facilities expanding the school's community outreach and Special Educational Needs (SEN) programme in the area of Clapham Common, Lambeth. Matter supported the school in assessing the development potential across their multiple sites and defining projects for grant funding applications. Government funding was secured for the first phase which was completed in 2018. A new family centre on Clapham Common was granted planning consent and further funding applications were made for the conversion of an industrial building into a community arts centre.
The school has a strong community ethos, using its location near Clapham Common as a natural resource for environmental education and wellbeing, interwoven with its formal SEN and mainstream educational offer. The existing buildings do not maximise this opportunity and the new projects are designed to create stronger connections between the external and internal spaces as well as increasing capacity and quality of teaching and administrative spaces.