Company Biography
Levitt Bernstein has specialised in the design of housing since our founding in 1968, and we continue to work on projects of all shapes and sizes across the country. We support the principle of inclusive design and have always had a particular interest in housing for older and more vulnerable people.
The practice co-authored the first Housing our Ageing Population: Panel for Innovation (HAPPI) report, which proved to be a game-changer in the design of older people's housing. More recently, we published 'Age-Friendly Housing' – a book embedding design principles and exploring their implications for our homes and communities.
We champion passive design and site specific, localised solutions to reduce energy demand ahead of implementing technological fixes. We first design a building and its surroundings to take advantage of its natural benefits through orientation, general layout and form – focusing on the provision of good daylight, ventilation, comfortable internal temperatures, simple building controls and high quality spaces – to promote the importance of happy and healthy occupants.
From our offices in London and Manchester, our architects, urban designers, landscape architects and interior designers enable us to look holistically at all projects, providing the expertise to deal with both the macro scale masterplanning and micro scale detailing both inside and outside the buildings.
As well as designing new homes, we set standards and shape opinion within the sector. We regularly contribute to books, papers, guidelines and reports; have undertaken significant commissions for the HCA and DCLG, and produced design guides for local authorities and housing associations.
Work showcase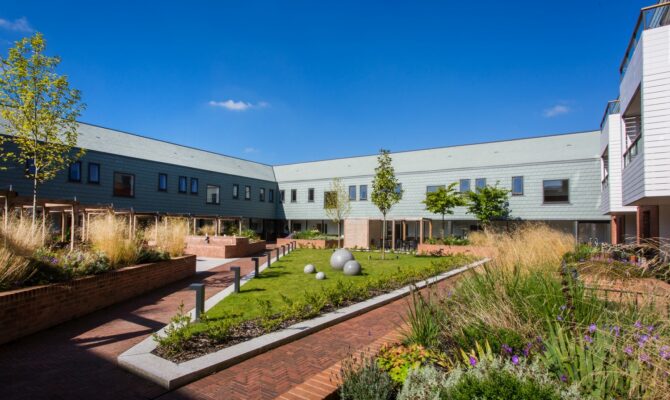 The Courtyards, Dovedale Avenue, 2021
This project develops an underused suburban site in Preston to provide 60 new affordable homes for older people with varying care needs. Homes will meet HAPPI recommendations and be fully accessible and wheelchair adaptable, with sliding doors to assist those with mobility issues and large storage areas inside for wheelchairs and scooters.
A black barn sits between the courtyards providing a focus for communal living, containing offices, café, activity room, hairdressers, laundry, reading room and medical treatment rooms. This centralised provision contributes hugely to social life at the development, including popular hits such as the beauty therapist and stylist, an assisted bathroom (known as the 'spa') and the café which can cater for internal events and also act as a function space for local people. It is important to be able to bring outsiders into the shared facilities to break down any sense of isolation.
The residential areas have been carefully considered to promote more communality, with balconies that look over the courtyards and kitchen windows that face onto walkways so that neighbours see each other while passing by. Seating in the corridors is well-used and supports a convivial atmosphere, while helping to tackle loneliness.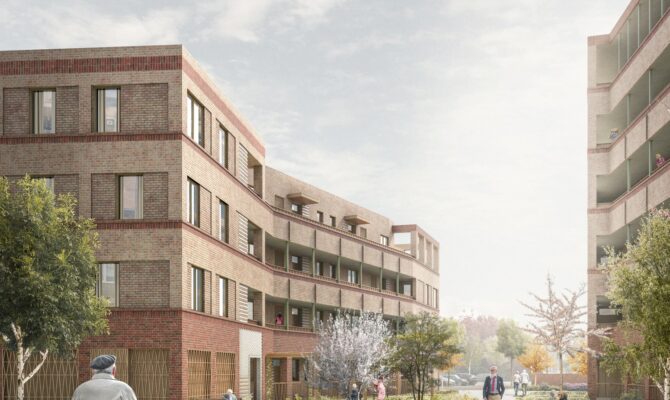 Melfield Gardens, ongoing
Melfield Gardens will provide 30 affordable homes for residents aged 55 and above, and two, four-bedroom homes for eight postgraduate students in the London Borough of Lewisham. In return for being 'good neighbours', the students will be charged a lower rent. Each will spend a number of hours assisting older residents, offering company or participating in the cultural and recreational activities that will take place in the communal spaces. As well as learning from this innovative social pilot, the client is keen to achieve a fully certified Passivhaus building as the first step towards a zero carbon future.
The Category 2 and 3 homes have adopted a dual aspect and flexible 'one-bedroom-plus' model that incorporates an additional 'study/hobby room' with a pocket door to allow it to become part of the main living space or remain separate. This provides residents with greater flexibility to tailor their homes to their own requirements as they age in place, in line with HAPPI principles.
The two subtly cranked buildings partially enclose a pedestrian-prioritised central green space which retains public routes through the site to Beckenham Hill Station. A shared, south-facing 'garden room' wraps around into the protected garden for residents and their visitors.
Melfield Gardens received the GLA Award in the Housing Design Awards for 2021.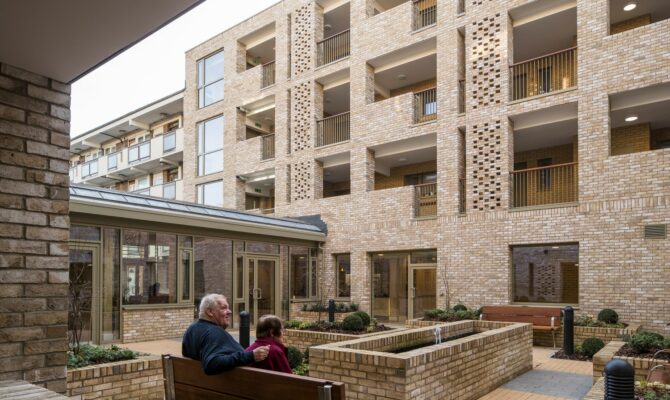 Hazelhurst Court, 2017
Working within the constraints of a tight urban plot in the London Borough of Lewisham, this scheme comprises 60 extra care homes within two new buildings, alongside integrated communal space.
Being mindful that older people spend more of their time inside, the design is centred on the concept of bringing the outside in and all homes are dual aspect to provide a visual connection to the courtyards and neighbouring streets. Similarly, a new garden room between the two courtyards provides a generous, light-filled communal space directly onto these external spaces, each of which has a different character to provide a range of physical and visual stimuli for residents.
In 2018, this project won a RIBA Award and a HAPPI Award in the Housing Design Awards. It has also received the Selwyn Goldsmith Award for Universal Design in the 2020 Civic Trust Awards.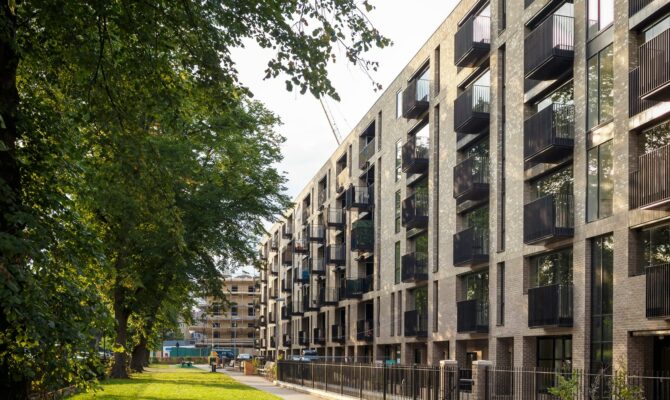 Buccleuch House, 2015
This unusual project involved working with three separate clients to provide new homes for three different communities: first time buyers, Orthodox Jewish families and older people who need extra care.
Our design focused on creating a new community within one new, unified, elegant building. Key to this is the way the building shows very little difference externally across the three tenures. The only exception is the use of subtly different balcony types, which were designed with the practical and cultural requirements of residents in mind. Private apartments have simple stacking balconies; those for Orthodox Jewish families are staggered to provide a clear view of the sky for the Sukkot festival; and those for the older residents are glazed to provide an extra 'living space' for those who spend more time inside. Many of the homes for older people also follow HAPPI design recommendations, with flexible layouts to help residents move around more easily.
This project, located in the London Borough of Hackney, has been awarded with numerous awards, including winning Gold in the EAC National Housing for Older People Awards for 2019.