Company Biography
Kennedy Woods is the UK's first architecture studio with B Corporation status - a certification for ethical businesses that balance people, planet and profit. The firm helps organisations create impact through product design and the built environment with a particular focus on sustainable growth. Founded by product designer Tom Woods and architect Chris Kennedy, the studio's work spans a range of scales and sectors, but is always underpinned by three core interests: a human-centered approach to design, design strategies that advance their client's organisational aims, and a focus on the social and environmental impact of built-outcomes. Kennedy Woods is part of Wallpaper* Magazine's 'Ground Breakers' series of emerging architecture practices.
Discipline
Architecture, Furniture, Interiors, Product
Work showcase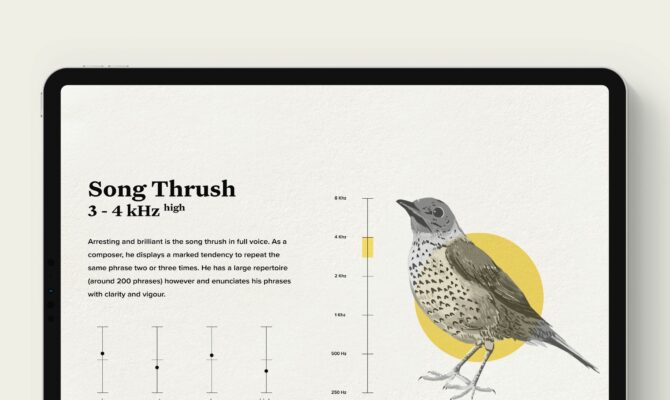 Hearing Birdsong, 2021
Hearing loss drives many critical age-related challenges, including social isolation, with strong links to increased dementia risks and cognitive deterioration. Hearing Birdsong is an immersive digital audioscape that uses the inviting sound of British birdsong to engage people with their hearing health and remove the barriers of social stigma and poor user design. Although over 12 million adults (one in six) in the UK have hearing loss, only two million are fitted for hearing aids.
Design Age Institute will work with lead designer Tom Woods of Kennedy Woods to develop a Hearing Birdsong app prototype that creates a relaxing and enjoyable experience in which to determine hearing health and inspire users to seek a diagnostic test by a healthcare professional. Part of the first cohort of the DAI's Pathfinder projects, it was highly commended at the 2020 Advancing Healthcare Awards and The Year of Green Action 2019.