Company Biography
We are a team of 2 based at Makerversity, London since 2017.
Shruti Grover, Human Centred Designer/Researcher
Shruti is a Human Centred Designer/Researcher who has led the conception, research, design and delivery of innovative products and services for King's College London, Wellcome Trust, Médecins Sans Frontières, Stannah Stairlifts, Proteus Digital Health, Chelsea and Westminster Hospital, Cerestim Therapeutics, Ford, Rio Tinto and the Seoul Design Foundation.
She has led projects in the United States, India, Ethiopia, Kenya, Mozambique, Netherlands and the United Kingdom. She holds an MA/MSc (Dist) in Innovation Design Engineering from the Royal College of Art and Imperial College.
Simon Johnson, Data Scientist
Simon has worked in the data visualisation, open data and data science communities for the last 7 years supporting organisation such as the United Nations, International Federation of Red Cross Societies (IFRC), Chatham House, Médecins Sans Frontières and the World Food Programme.
He has extensive experience creating and managing software development projects to enable the use of data in humanitarian, development and health settings. In a previous life, Simon designed computer games and also worked as an actuarial consultant.
Discipline
Research, Service
Work showcase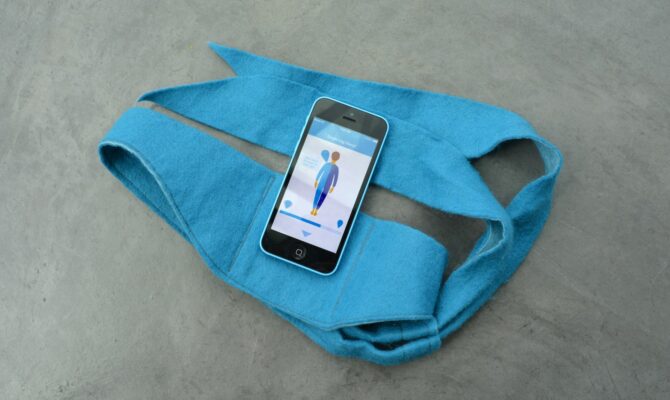 Stannah Balance
CHALLENGE - Help the Stannah team identify a new product or service which helps older people stay active at home.
OUTCOME - From a number of options, Stannah developed the world's first wearable and app for measuring body balance.
BACKGROUND / ISSUE AND OBJECTIVES - Stannah Stairlifts are a 150-year manufacturer of lifts and stairlifts based in Andover, Hampshire. They have produced more than 500,000 stairlifts for older people who have trouble with going up and down stairs because of arthritis, hip replacements, multiple sclerosis or simply from old age. Stairlifts can enable people to have continued access to their whole house. The Stannah design team were looking to deeply understand older people's attitudes to activity and well-being and use these to develop novel design concepts.
APPROACH - The first stairlift equipped home we visited belonged to a retired couple in their late 80's. There we spotted several pairs of shoes with the left shoe scuffed, and the right shoe near spotless. Clare told us about her repeat falls and reluctance to buy a stairlift since she felt it would limit her mobility even further and akin to giving up.
A deeper look into the area of falls and ageing led to the finding that one-third of people aged 65 and over fall each year, and those who fall once, are two to three times more likely to fall again. Stairlift purchases are often delayed by people since they equate having a stairlift to a steep decline in mobility.
We conducted interviews with UK's leading fall experts, people who attend stable and steady classes, physiotherapists and stairlift users. Visiting homes and attending classes gave us an understanding of tactics adopted by people recovery after a fall.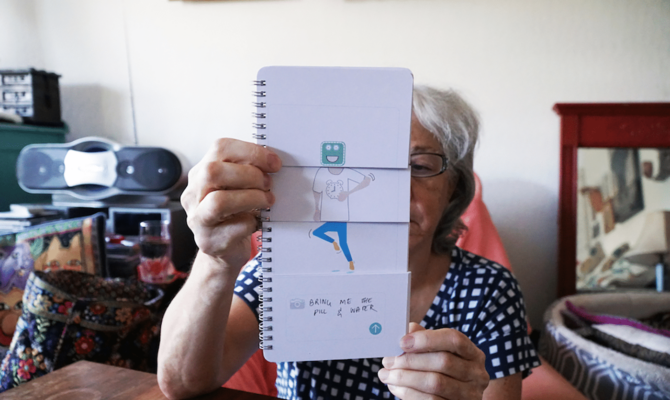 Proteus
CHALLENGE- Rethink the experience of the Proteus Discover(R) program to meet the needs of Hep C patients.
OUTCOME- We developed a comprehensive patient experience including rituals for pill and patch-wear, data-informed features for the Discover app and algorithmic outreach tools for customer support for three Hep C user segments, guidelines for future human-centred design research.
BACKGROUND/ISSUE & OBJECTIVES- Proteus Digital Health is a company based in Redwood, California commercialising a new category of therapy: digital medicines. They have patented an ingestible sensor to accompany pharmacological medicine. When this sensor reaches a patient's stomach, it sends a signal to a patch worn on the patient's torso. This patch also records, steps, activity, rest and heart rate and communicates these metrics to a patient app and the patient's care team.
The Proteus product had been initially designed to meet the needs of patients with chronic cardiovascular conditions like type 2 diabetes and hypertension. The product team were looking to rethink the current experience with a focus on Hep C patients.
APPROACH- We interviewed a generational mix of patients who were currently infected or recently cured of Hep C about their experiences with the virus and the medication treatments, including Baby Boomers.
We developed a collection of tools and tasks intended to make the patient think and recollect their experiences with Hep C, share memories of objects which helped them stay on track with their treatment, stories of high and low points in their journey towards 'sustained viral load' or being cured and people who helped them along the way. Our conversations revealed insights about differences in the generational experience of Hep C.
To understand more about medication adherence patterns, we developed a custom dashboard which layered pill intake adherence data from 60 Hep C patients. We analysed this data to reveal three types of experience journeys.