Fanny Karst // Old Ladies Rebellion
Company Biography
The Old Ladies Rebellion started in 2008, I had always wanted to impress my grandmother in the South West of France. I dedicated a project about AGE every year at Central Saint Martins where I graduated in 2007. My final year thesis was "Can you be 80 and still be cool?" I think about that everyday.
I make classic made to measure silk dresses & jackets, combining traditional elements of Savile Row's craftsmanship (where I trained at Chittleborough & Morgan, the most wonderful tailors on the block) with big digital prints inspired by Youtube videos, films or streetlife. My clients come in for fittings and we discuss their desires and how they want to be free and move.
I also have a small collection of "sportswear" for ladies who don't exercise , preferring side court drinks in style.
I now live and work in New York, the city of lights and well dressed buildings.
Since 2020, I dedicate more time to researching solutions for a better quality of life in old age: The Silverage, in collaboration with scientists, architects, technology & social experts.
Discipline
Fashion, Graphic
Work showcase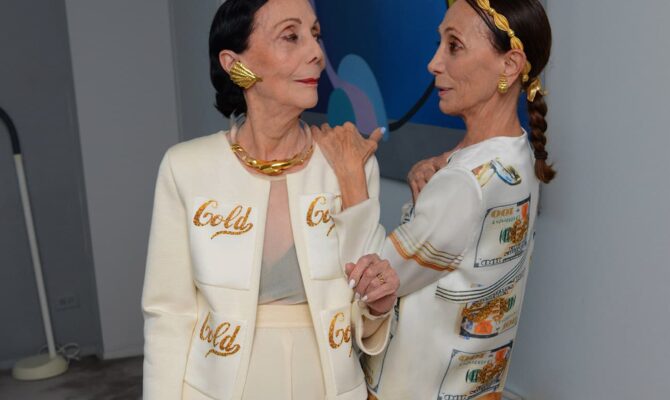 Escape from New York 2017
The magnificent Rueda sisters star in Escape from New York an Uptown/Downtown collaboration.
The digitally printed jackets represent greed, power, extravagance and crime from a dedadent imagined New York city combined with Elise's silk shorts and skirts that she made over the years for her and her sister Caroline. Elise was a master couturier, in the 50s and 60s, she dressed all the Upper Manhattan high society. The collection mixes craftsmanship in different eras and generations. For the show, Elise and Caroline performed eccentric chores and played the piano in their surreal apartment.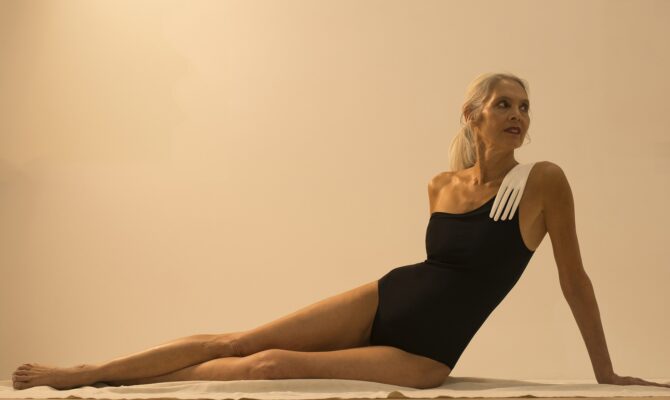 East Village Dives 2019
Who says you can't look like a goddess in your 70s?
Nancy, an active East Village resident spotted in the street, models a swimsuit that I designed with a hand sewn holding hand. This collection is aimed at accompanying the ladies in their active life. The older generation hasn't escaped the fitness movement. They have more energy than ever. The high quality fabric and cut are flattering and freeing. Nancy becomes an inspiration for younger people to age like her.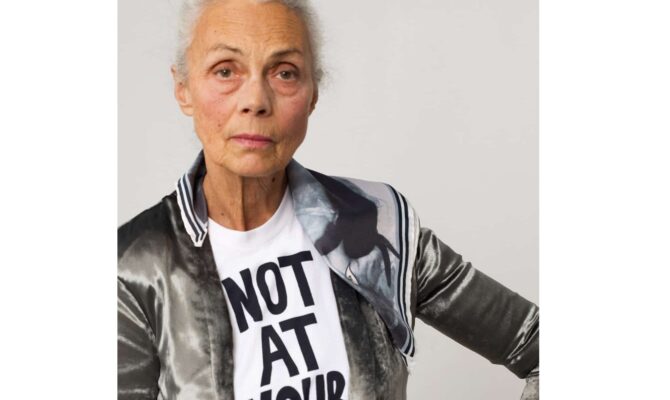 The Message - since 2014
"Not At Your Age" // "Milleniold" // " Young at Art" // "Old is The New Black" & "Not Dead Yet" (with Advanced Style) are punchy t-shirts sold all around the world since 2014.
The ladies wear it with humor and irreverence and are sure to make an impression.
The t-shirts invite to a conversation & exchange to give the ladies a sense of pride and empowerment. In the era of social media, the ladies post their photos gaining a following, sometimes cult. It is no longer an era of invisibility for our elders.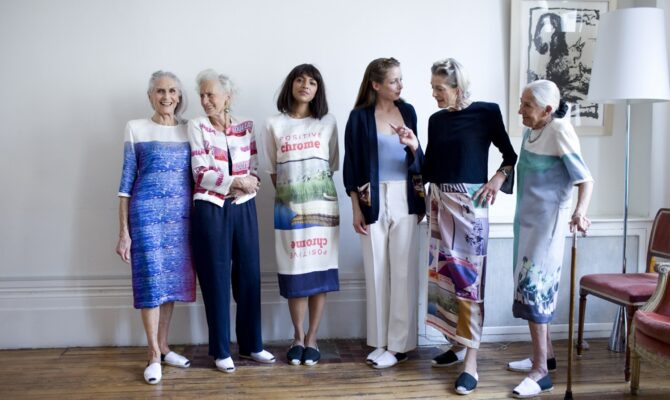 Trouble In Paradise 2012
This collection was presented in the salons of the French institute in London.
The whole old lady gang from London modelled and partied, along with a couple of younger friends.
The prints were overblown slides taken by my parents in the 70s when they lived in Rio de Janeiro.
They are pop and upbeat to be worn on the cruise to the afterlife.