Company Biography
Eyra designs universal homeware for people of all ages and abilities who value exceptional design and good quality manufacturing.
Our design process is unique. We collaborate with leading industrial designers and world-class manufacturers to create beautiful and useful items for all areas in the home.
Our customers are design-savvy people who find joy within their carefully curated environments.
We started the business because, even though we're living longer and better than ever before, it's impossible to find beautiful and useful products which alleviate the minor ailments that come with age. We're on a mission to change that.
Manifesto:
- We believe we can design our best lives - that beautiful things make us happy and that a sense of style is life long.
- We believe our ability to express ourselves improves with age, that we are motivated by what we like, not how old we are — and that a few delightful things are better than many mediocre ones.
- We believe in form and function, that choice is important and that unsightly isn't good enough.
- We believe it's time to switch it up.
Discipline
Furniture, Product
Work showcase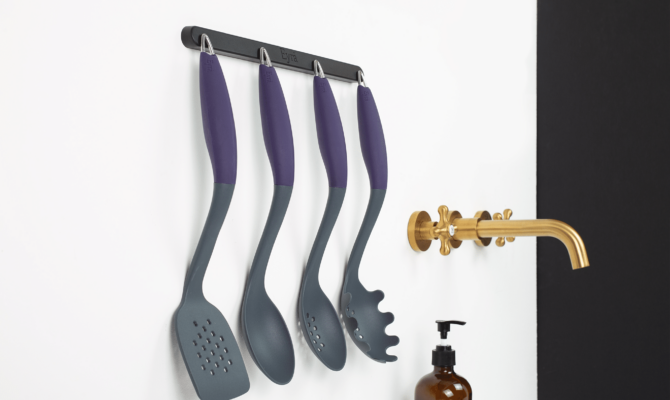 Eyra Kitchen Utensils, 2021
The Eyra kitchen utensils have been designed in collaboration with leading British Industrial Designer, Sebastian Conran.
The utensils have been specifically designed for maximum comfort and ease of use. The set includes a spoon, a slotted spoon, a spatula and a pasta grabber. It comes with a magnetic rack for easy storage.
Key functional features:
- Unique curved handle. Suitable for multiple grip types, low grip strength and designed to maintain a neutral wrist position.
- Anti-slip. The material on the handle is over-moulded with a soft thermoplastic elastomer (TPE) so that, even when wet, they are secure in the hand with minimal grip.
- Easy storage. The utensils can be attached to hooks via the loop at the end – or affixed magnetically to the accompanying rack for easier, less fiddly storage.
- Lightweight. Each utensil weighs only 120g.
- Dishwasher safe.
- Choice of two contemporary colours: orange or aubergine.
- Attractively boxed in recycled, and recyclable, cardboard box.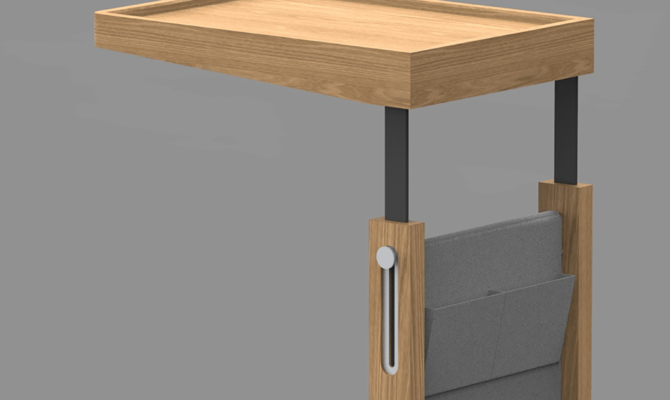 Eyra Table, 2022
The Eyra table is a beautiful piece of furniture designed by David Steiner. It's made from sustainable Serbian oak and powder-coated steel. The height can be adjusted with a stainless steel thumbscrew and it moves easily on high quality Italian castors. The table top is matt oiled smoked oak and it's sized to fit a special edition Kaymet tray. There is a removable felt storage pocket in a choice of colours.