Centre For Print Research, University of the West of England
Company Biography
The Centre For Print Research (CFPR) is based at the University of the West of England, Bristol. The CFPR has a mission to innovate, contemplate and understand all aspects of print history, practice, manufacturing and materials from developing 3D printable ceramic materials to disruptive printing technologies, developing new inks and collaborating with international artists.
With an interest and experience of applying our research to societal challenges, sustainable development goals including Good Health and Wellbeing our recent areas of focus include:
Work showcase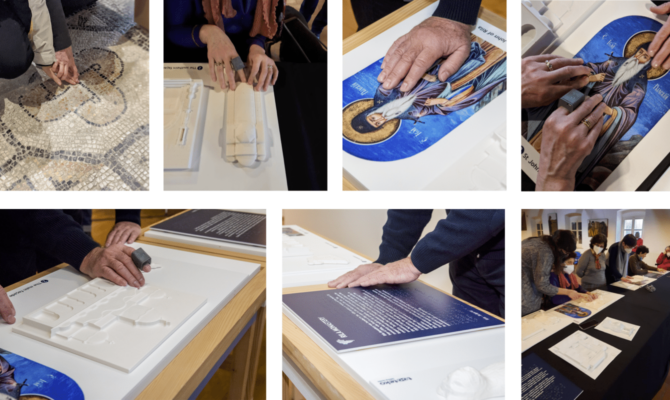 Unesco4all Tour, 2021
The Unesco4all Tour project was undertaken with the aim of producing replicas to be displayed at UNESCO World Heritage sites to aid visually impaired audiences. The scope of the design research was to develop accessible, innovative, transnational cultural tourism products and experiences by integrating tactile exploration with audio data for this target audience.
Researchers tested a high-tech "ring" detection of Near Field Connectivity (NFC) tags integrated into 3D printed artefact replicas. NFC sensors located on tactile surfaces are triggered to communicate wirelessly with a smart device (through an app for tablets or mobile phones).
A team at the Centre for Fine Print Research (CFPR) led by Fabio D'Agnano found innovative solutions for the production of three dimensional models for tactile exploration. This required translating real objects into digital models through photogrammetry, digital 3D modelling and digital sculpting. Digital models were then built using a variety of materials and techniques including Computer Numerically Controlled (CNC) routing, laser cutting and engraving, and resin 3D printing. One of the main challenges was to create a precise replica of an artefact, of considerable size and at reasonable expense. In addition the material used needed to be easy to maintain and pleasant to touch.
Graphene-Based Wearable Electronic Textiles, 2021
The project developed wearable, flexible and machine washable electronic textiles that can continuously detect low glucose levels (i.e. hypoglycaemia) in people with diabetes via electrocardiogram (ECG) signals in a non-invasive way. Early detection of hypoglycaemia is essential as it could lead to a medical emergency such as coma or death.
Highly conductive graphene-based inks were developed and printed onto textiles. For heart monitoring, the printed graphene textiles will then be attached to human body and a ECG recording unit. The recorded heart rate data will be transferred to a mobile applications software via Bluetooth in a non-invasive way. It will then be compared with standard ECG device to enable a robust, reliable and truly wearable ECG device based on graphene e-textiles.
Usually finger stick glucose measurement is used for hypoglycaemia. Glucose levels below 70 mg/dL and 54 mg/dL are categorized as mild and serious hypoglycaemia. Heart rate variability (HRV) measurement could be useful for real-time early detection of hypoglycaemia, as the sympathetic nervous system is stimulated by hypoglycaemia. In this study, HRV of a group of type 2 diabetes patients will be monitored continuously using a robust, reliable and comfortable graphene-based ECG textile. At the same time glucose levels will be monitored via finger stick method in order to correlate hypoglycaemia event with HRV.