Company Biography
At Cartwright Pickard, we've been challenging the norm to create inspirational places to live, work and learn for over 20 years. We're a team of research-led designers who never forget that architecture has the power to improve lives.
We're different because we prioritise wellbeing, innovation and an honest approach in everything that we do. We have a deep sense of responsibility to our clients, to everyone who experiences our architecture and to the planet.
We design with our head and our heart: with pragmatism and vision. When you work with us, you'll work with a talented team that knows how to create beautiful buildings and has the technical knowledge to deliver them.
We believe that inspirational places are more than skin deep. Our buildings are well built, perform consistently over time and grow old gracefully. Rather than following the latest fashion, we continue to push the boundaries of our industry with leading research into air quality, modular construction and 7D BIM.
Discipline
Architecture, Research
Work showcase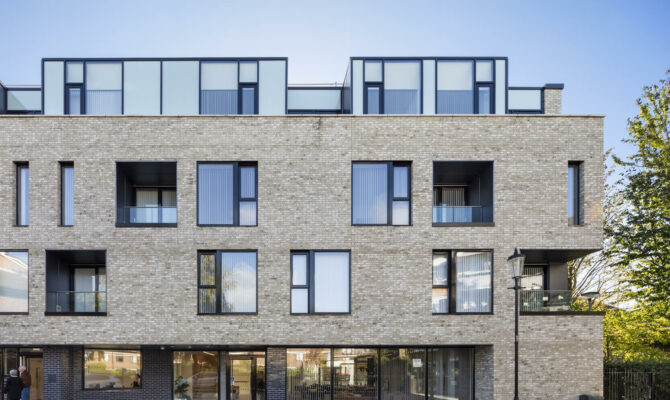 The Reed, 2017
The Reed is an intergenerational community hub building that brings together a café, extra care day facilities and housing for older people. The building is set within a Conservation Area and has replaced a three-storey 1960's building that was in a poor state of repair but much loved by the local community. The essential requirement was that centre would become a focal point for the local area that encourages intergenerational interaction. This has successfully been achieved through regular sessions including arts and crafts, pottery, chair yoga, iPad classes, intergenerational social events and digital media training for young people in a dedicated media suite.
The building forms a strong distinctive primary frontage to Convent Gardens, providing two attractive and legible entrances to the community hub (The Reed) and flats above (Jane Lidderdale House). Each of the 13 social rented flats is wheelchair accessible, has its own balcony and is designed as low-energy housing to reduce fuel burden. Space standards are in excess of Lifetime Homes Standards with level access throughout and infrastructure for easy retrofitting of assistive technologies.
A double-height reception space welcomes users into the centre and aids orientation, while large street-facing windows on the first two floors offer views into the lounge, café and wellbeing activity space on approach. The centre also includes day facilities for dementia sufferers, a beauty salon and pottery room. Layout and interior design accommodate sensory, cognitive and mobility impairments and the centre is wheelchair accessible throughout. A quiet landscaped garden provides sunny external amenity space that connects with the café and lounge.
Jane Lidderdale House flats are dedicated for people aged 60 and over. Natural light, ventilation and storage space are maximised, with principles of inclusive design.