Company Biography
Adam Vaughan is an experienced designer who is able to tackle some of society's and business' most complex problems through the application of a design approach. His 15 year career spans physical and digital product, service, and venture design for companies such as Philips, EDF Energy and The LEGO Group.
In the Healthy Ageing sector Adam has been involved in building and growing two pioneering start up businesses through design. The first of these was Unforgettable.org a platform supporting people living with dementia and their carers through life-changing products, helpful advice, useful services and a caring community. Through involving people with dementia and their family carers at every step of the way, Adam help grow the business through the development 7 new products and a new service; the Caregivers Club, all co-designed to help face the challenges that living with dementia presents.
More recently Adam has played a key role in establishing and launching Arthr, a venture wholly owned by the charity Versus Arthritis focused on developing and championing beautifully designed products that help with the challenges of Arthritis and that people want to have in their home. Adam established Arthr's co-design process to ensure that people with arthritis and healthcare professional were involved at every step of the way and developed Arthr's first range of products.
Adam is now available on a freelance basis to support companies to grow in the ageing sector through design of products, services and new ventures.
Discipline
Digital, Product, Service
Work showcase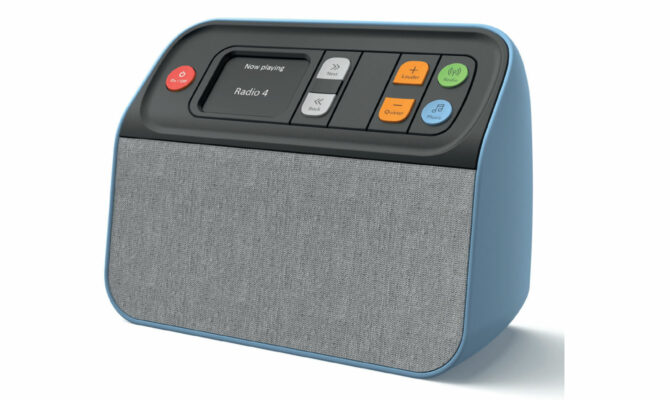 Music Player, 2018
Context - Music is one of the most powerful non clinical interventions for people with dementia and a personal playlist of the songs someone enjoyed in their youth can help access memories that may otherwise be lost forever. However, most devices for listening to music can be complicated and many people with dementia don't have the wi-fi connection in their homes that a lot of contemporary devices require.
The Brief: Design a digital radio and music player that helps people with dementia enjoy their favourite music and radio stations independently, that's easy to understand with a simple interface
My Role - Leading the project from start to finish, I focused on these project elements:
Setting initial brief and presenting user insight to inspire the project
Managing the design agency to ensure concepts delivered to the brief and were viable, feasible and desirable
Testing concepts with people with dementia and their family carers to shape the design as it
progressed
Designing the UX of the physical controls, the digital displays and menus and the interaction
between the two
Liaising with the manufacture to ensure quality of fit and finish, negotiating pricing and holding them to deadlines
Outcome - A music player and digital radio with a simple, customisable interface that brought joy to thousands of people with dementia across the UK. It immediately became Unforgettable's best-selling product and was shortlisted for "Outstanding Dementia Care Product" at the 2018 Dementia Care Awards.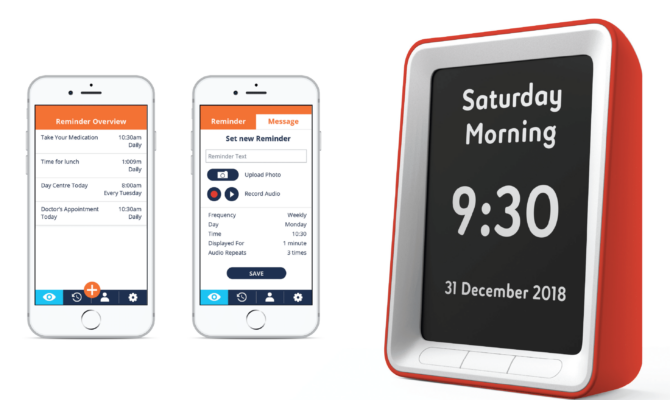 Remote Reminder Clock, 2018
Context - One of Unforgettable's best-selling products was a simple day clock, that showed the time, day and date, to help people with dementia orientate themselves to the time. Following the success of the clock the market was flooded with generic copies, making it difficult to compete and resulting in a race to the bottom in terms of pricing.
The Brief - Design the next generation of Day Clock, taking into account the feedback gathered from consumers over the years of selling the previous model and insight around time orientation problems that occur with dementia. Create a stand-aline version and a version that connects to wi-fi so family members and friends can set reminders remotely and send messages to keep in touch via a smart phone companion app.
My Role - Leading the project from start to finish, I focused on these project elements:
Manage the hardware design agency, app developer and supplier. Steer the project direction to ensure the brief was met for the hardware design
Design the UX of the menus, displays and physical controls of the clock device. Push the limits of what was possible with the very simple OS that the processor on the stand alone version could run.
Design for Android for the Wi-Fi version.
Wireframe and UI design for the app screens to keep them simple and easy to use, following OS standard for iOS and Android
Source supplier and negotiate pricing and terms
Manage the hardware and software development at the supplier and motivate them to explore different technologies to reach our goal
Quality control for each software build and the final product
Outcome - A stand out day clock that provided better functionality, was more desirable to have in the home and separated Unforgettable from the competition.