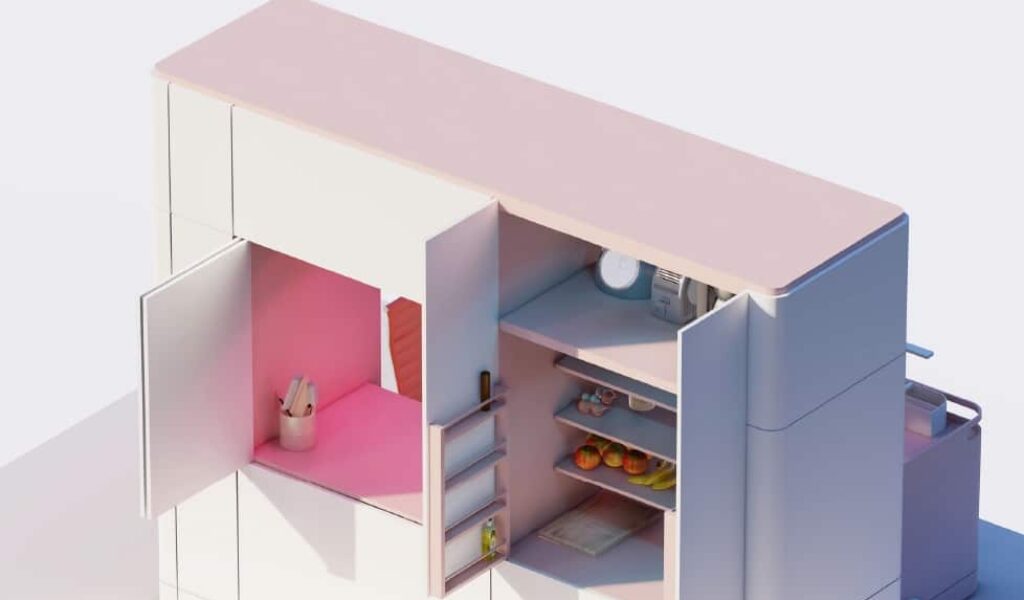 Designing for our Future Selves
Published:
Our upcoming display at the Design Museum from 24 February, will showcase ten innovative design initiatives that aim to help everyone age more happily and healthily.
Dates: Friday 24 February to Sunday 26 March 2023
Venue: the Design Museum London
Tickets: Free entry
---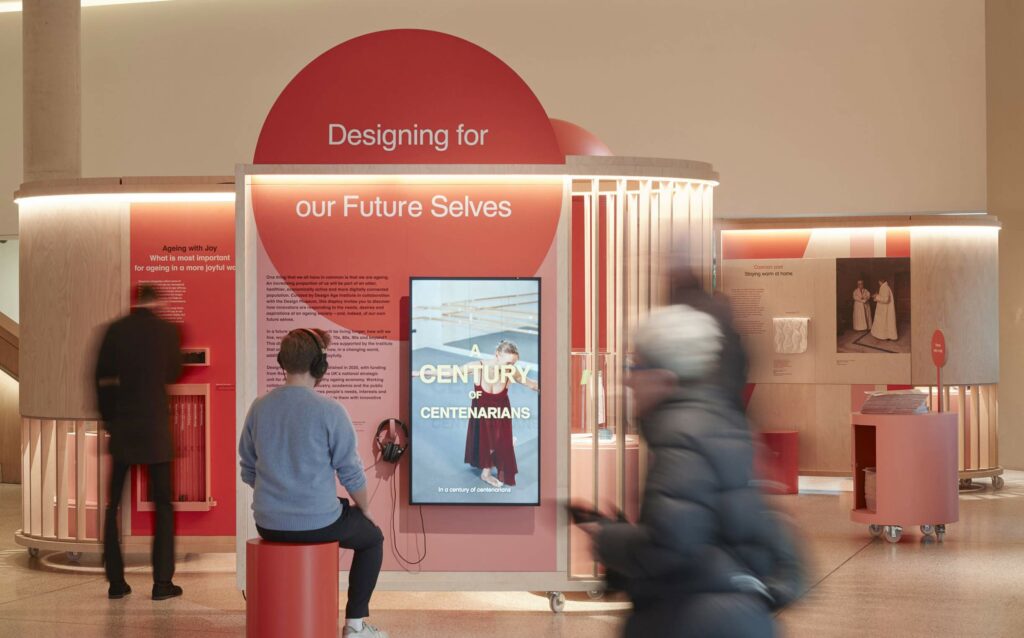 Designing for Our Future Selves builds on last year's successful Future of Ageing display, which celebrated the one thing we all have in common – that no matter our age, we're all ageing.
The 21st century is shaping up to be a century of centenarians. With more of us living longer, an increasing proportion of the UK's population will hopefully become part of an older, healthier, more financially secure, and technologically savvy demographic.
But we will also face many global challenges, including automation resulting in job losses, the climate emergency, global pandemics, and the cost of living. The traditional life stages of education, employment and retirement will need to be radically reimagined.
The new display will showcase how, in a changing world, cutting-edge design can help people to not only live their later years more independently, sustainably and healthily but also with joy and fulfilment.
It will feature 10 design initiatives currently being developed by Design Age Institute and its partners aimed to positively impact the way we live and work as we grow older.
Colum Lowe, Director, Design Age Institute said: "Designing for our Future Selves allows us to explore how design innovation could improve our lives as we grow older. The exhibition will open this dialogue up to younger audiences who may not have questioned what it means to grow older in today's society, the potential challenges that lie ahead and how we seek to solve them."
Josephine Chanter, Director of Audiences at the Design Museum said: "The needs of older audiences are distinct and all too often overlooked by companies and designers. These ten projects represent ideas and prototypes that open up the possibility of how we can all age with more agency and joy. We hope all our visitors will leave inspired by how designers can enhance the quality of our lives regardless of our age."
What's in the display
The display showcases 10 new cutting-edge design initiatives currently being developed by Design Age Institute and its partners, all of which will positively impact people's homes, health and work as they grow older.
HAMLYN WALKER
Redesigning the walker
Lady Helen Hamlyn, Patron of the Helen Hamlyn Centre for Design at the Royal College of Art, described the walking frame or 'walker' as "the most degrading object that we can give to anybody". Walkers are functional products, but highly medicalised and stigmatised, so many people who would most benefit from using them abandon, avoid or postpone getting one, compromising their mobility.
Confident that good design can shift the negative stigma of walking frames, Lady Hamlyn commissioned Design Age Institute to launch The Hamlyn Walker Challenge.
Product designer Michael Strantz's winning proposal was for a single frame that can meet the needs of different generations. Strantz is now working with design agency PriestmanGoode and user groups to explore further possibilities and continue to challenge the current stigma about walking frames.
HAMLYN BANK
Inclusive banking for later life
As people age their banking needs change. With the closure of many traditional banking services such as high street branches and as the world moves towards a cashless society, there is an opportunity to reimagine how banks can better design their services to meet the needs of those in later life.
Design Age Institute's designer-in-residence, Roseanne Wakely, in collaboration with the UK National Innovation Centre for Ageing and VOICE® worked with older users and banking professionals to explore how a more inclusive bank can meet the unique financial needs of later life and improve confidence, security and trust.
INTELLAGE
Smart insoles for active ageing
IntellAge is a smart insole system for daily use. It aims to keep users active and safe by digitally tracking mobility and gait through a smart sensor system that feeds data into an app. By connecting users to real-time information and prompts, they can improve their understanding of gait and mitigate the risk of falls. Created by Walk with Path, the project was inspired by founder Lise Pape's experience of her father's diagnosis with Parkinson's disease, and its impact on his independence, mobility and wellbeing.
Recent industrial action by ambulance staff in the UK and Wales warned the elderly that if they fell at home, it was unlikely they would be able to respond to calls. Further evidence to just how important it is to better manage one's own mobility.
TIDES
Sensuality for women for a lifetime
By 2025, over a billion women globally will be experiencing menopause. Tides is a whole body massager designed to be used as part of a self-care routine. It is a long term therapy option to tone the pelvic floor muscle and stimulate blood flow during a key period of life where the body changes and evolves. Most importantly, Tides is non penetrative and non genital focused. Designed by Salome Bazin, founder of Cellule Studio in collaboration with Giulia Tomasello, Tides uses vibration technologies to support menopausal women, offering incredible benefits such as relaxation, pleasure and improved sleep by increasing blood flow and keeping tissue healthy and oxygenated.
COAROON COAT
Staying warm, sustainably, at home
The elderly are some of the most vulnerable people affected by the current UK energy crisis. As people age, they have less tolerance to cold temperatures which can significantly impact their health and independence. Coaroon, which takes its name from 'cocoon coat' and from the Scottish word 'coorie' meaning cuddle, is a garment for the home that supports an individual's freedom of movement, while sustaining an even body temperature across a range of everyday activities, from reading, to working, to cooking.
Conscious of the increasing costs of heating and its environmental impact, the creators of Coaroon, Joan Johnston of Ava Innes and Sarah Morehead of Self-Made Studios, were inspired to produce a skilfully made garment that helps people live longer, and more sustainably, at home. Coaroon is made from an innovative natural insulation fabric using cashmere goat guard hair, a by-product of cashmere production traditionally ignored by the textile industry. The guard hair is continually grown, shed and clipped annually, a natural and sustainable cycle. This new fabric is thermally regulating, insulating in Winter and cooling in Summer, so it has many potential uses.
HOME OFFICE
Live/workspace for later life
More and more people are extending their working lives, and older workers represent a valuable source of experience, talent and financial contribution to the economy. Flexible working is key to keeping older people in the workforce. However, while many are increasingly working from home, few homes are designed to support healthy, independent and active living and working beyond the traditional retirement age.
Home Office to Age in Place brings together architects, designers for ageing and digital designers from Northumbria University, along with furniture designers from Pentagram, the world's largest independent design consultancy. Together they have created a purpose-built, flexible, and supportive live-work space for older residents in South Seaham Garden Village, County Durham for Karbon Homes.
LUII
Freedom from incontinence
Urinary incontinence, meaning to pass urine unintentionally, is a common condition in later life. According to Incontinence UK, An estimated 2.4 million people over 65 in the UK experience incontinence, which negatively impacts their health and wellbeing and that of their families every day. Luii hand-held urinals, created by Binding Sciences Limited, enable both able-bodied users and those with reduced mobility or dexterity to manage incontinence discreetly and flexibly, maintaining their independence and quality of life.
Founder Keith Binding was inspired by his mother's incontinence issues to create accessible, gender-inclusive products, that enable those who are aware of when they need to urinate to do so unaided, with dignity and confidence, remaining dry throughout.
RISER CHAIR
A chair that enables sitting and standing
Riser Chair aims to assist users with sitting and standing while being a beautiful piece of furniture that people will not only need but will want in their homes and offices. Creator Ali Jafari, founder of Designed Healthcare Ltd based at Innovation Studio Arts University Bournemouth, was inspired to create Riser Chair by his experience as a nurse assisting patients to sit and stand.
LIGHT CYCLE
An immersive light installation
Circadian rhythms – sleep-wake cycles that follow the sun – constantly change during people's lifetimes. Between the ages of 60 to 65 they start earlier and continue to shift by half an hour each decade. Light Cycle explores how light and darkness can promote greater health and happiness in later life by improving circadian rhythms to support mood, sleep patterns, temperature regulation and hormone release.
This project was conceived to create intergenerational communities and enhance well-being by members of Clarion55, a national resident group of over-55's led by Clarion Futures, part of Clarion Housing Group, the largest social landlord in England. Independent lighting architects Speirs Major are working with light and wellness expert Dr. Shelley James, of Age of Light Innovation to collaborate with members of Clarion55 to develop plans and interventions.
PETITION FOR PACKAGING
Consumer packaging is the most frustrating household item in need of redesign based on a survey of over 2,000 adults aged between 55 and 104 (source: Design Age Institute report 'Designing the Everyday for a Less Frustrating Life' with u3a and This Age Thing). The Institute is now petitioning the Government to establish a minimum inclusive standard for product packaging to enhance accessibility, sustainability and consumer choice.
QR Code to Petition – https://petition.parliament.uk/petitions/625867
Films
The display also presents two inspiring new film commissions by Chocolate Films. A Century of Centenarians contains insightful interviews with six participants aged 50-90 sharing their views on ageing. A Postcard to Your Future Self is an animated film sharing some of the responses from visitors to The Future of Ageing display about their aspirations and worries for their future selves.
Public programme
Immersive and participatory experiences have been designed into the display to invite visitors to question and challenge stereotypes and assumptions about later life. Visitors are invited to connect with the diverse stories of older communities and are prompted to consider their own ageing and future selves.
1. Opportunity to contribute to understanding of what is most important to a joyful later life
2. Invitation to design an item, object or activity for your future self
3. Meta supported digital experience to meet and message the future you
4. Wisdom Hour workshop on 9 March exploring wisdom and our future selves
6. Happy, Healthy and Wise talk on 21 March exploring the healthy ageing economy