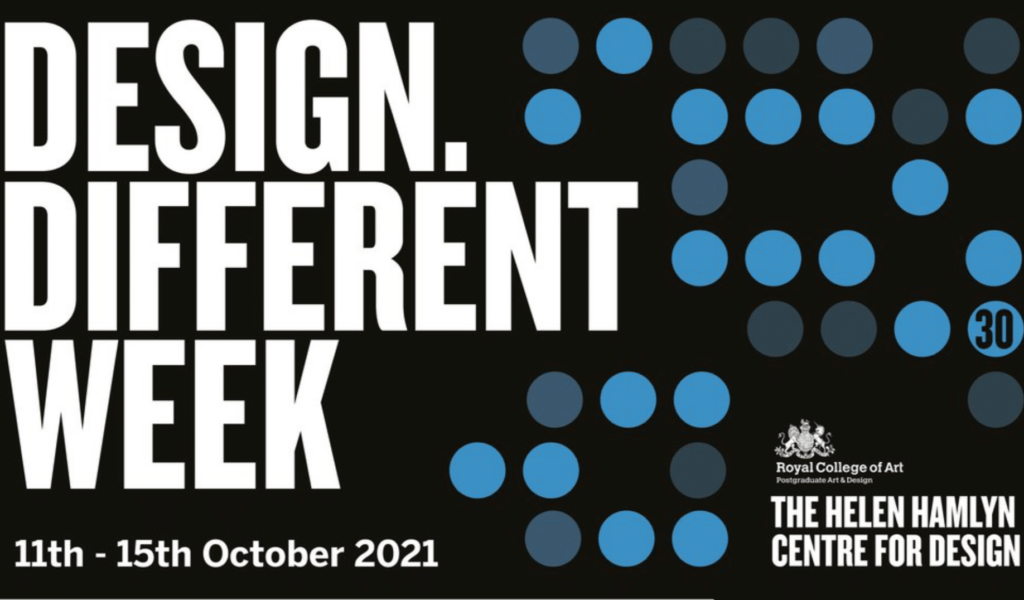 Published:
A week-long programme of events celebrating inclusive design. Hosted by the Helen Hamlyn Centre for Design.
Inclusive Design is design at its most powerful, conscious and empathic. It can make every conversation better. It uses creativity to address exclusion and include all voices, regardless of age, ability, gender or race.
Come and join our series of hour-long events online.. Each one looks at different aspects of inclusive Design ranging across architecture, fashion, business, sanitation, neurodiversity, ageing, health and 'wicked' problems. We will reveal new work from the Helen Hamlyn Centre for Design and our global creative network. Come and hear from pioneering voices in the field, and share your perspectives. We would love to hear them.
Programme
Design.Different: Why inclusive design should speak across age, ability, gender and race.
Monday 11 October, 2–3pm
'Inclusive' is a term that has gained traction as organisations rush to reconsider what inclusion means. We talk about inclusivity in four primary ways, including people of all ages, abilities, genders and races. The first two represent a heartland for inclusive design. The second two speak to urgent and necessary conversations. Considering these four attributes is representative of the realities of the 7.6 billion people on the planet.
Join us for the launch of our Design.Different week where we will discuss a future where design can make a difference. We will showcase new projects, introduce emerging ideas and create a discussion. We will speak to a deep, global yearning to be more equitable, and inclusive. Come and help set the trajectory, and share your voices. They need to be heard.
Design.Sanitation: There is an urgent need for inclusive design to consider the climate crisis whilst also considering user needs and abilities
Tuesday 12 October 2–3pm
It is currently estimated that 4.2 billion people, over half of the global population, lack safely managed sanitation services and 2 billion people live in countries with high water stress. One billion people live with some form of disability and 1.5 billion will be over 65 by 2050. How can inclusive design meet the challenges of age and ability and consider the urgent response to the climate crisis and water management? This session brings together key speakers in the area of innovative sanitation and will end with the award winning film Bathroom Privileges by Rupert Williams which highlights the challenges many people face accessing public toilets.
Design.Fashion: Can fashion futures be inclusive?
Tuesday 12 October 4–5pm
One of the hard-to-reach places for inclusive design has traditionally been fashion. The fashion industry has built its reputation on being 'exclusive'. So how can these worlds meet? When inclusive design threads its way into fashion, it is typically on the fringes, making minor overtures towards older and disabled people.
But fashion is more than ideas that are simply tactile or textile. Fashion can be the first outer expression of yourself, presenting in, on, and even around the body. It is a signal of your self and an expression of you. This session asks how fashion can expand its definition and open its arms to the new futures we see around us that demand inclusivity of all humans. It looks at how fashion and technology can bring its rich history of artistry and innovation to help describe different tomorrows.
Design.Neuro: A panel of neurodivergent creatives discuss their work and the future of neurodivergence and design.
Wednesday 13 October 2–3pm
In celebration of HHCD 30th anniversary this session will reflect on how neurodivergent related projects have grown and evolved at the centre and what the future holds within this space. The session brings together four neurodivergent creatives to discuss what neurodivergence means, and to consider the key opportunities and challenges of neurodivergent-led design.
Design.Wicked
Wednesday 13 October 4–5pm
The 21st century is besieged by 'wicked' problems – problems that are plagued by confusion, complex interconnections, and conflicting diverse needs of multiple stakeholders and decision makers. The term was coined by design theorist Horst W.J. Rittel in the 1960s to describe problems that are hard, if not impossible to solve. Seeking answers to the wicked problems of climate change and global public health amongst others, is imperative because they threaten the very safety, continuity and wellbeing of societies and individuals. This event brings together thought leaders from across sectors and disciplines to present their perspectives and experiences on the role of inclusive design in tackling wicked problems.
Design.Architecture: Should 'inclusive architecture' be a recognised term as 'inclusive design' is?
Thursday 14 October 2–3pm
Inclusive design has become a recognised part of design, now recognised by governments, business, academia in the third sector. But what about inclusive architecture? How do we enable the creators of space and place, the planners of our environment to ensure that ideas have the greatest reach and create the greatest possibilities for us all?
This session brings together a variety of practitioners to discuss how we can create spaces that are not just live-able, but lovable. We will look at the traditional barriers, how to overcome them and point towards projects and initiatives that are making waves. A particular focus will be on architecture across the life stage.
Design.Agency: Some Wise Words on Design and Ageing
Thursday 14 October 4–5pm
This one hour session will explore how designers can use the wisdom that comes with age to tackle aspects of ageism experienced in British society. Colum Lowe from the Design Age Institute and George Lee from This Age Thing, will be joined by two giants of design, Pattie Moore and Michael Wolff, to discuss all things age related. This is a not to be missed opportunity to hear two of the greatest minds share their wisdom about how design can help us all age longer and more joyfully.
Speakers: Patricia Moore – Fellow of the Industrial Designers Society of America, Michael Wolff – Founder Michael Wolff & Company, Colum Lowe – Director, Design Age Institute, George Lee – Community Lead, This Age Thing
Design.Continuity: How can inclusive design enable businesses to recover, transform and thrive in a Fourth Industrial Revolution (4IR), post-pandemic world?
Friday 15 October 2–3pm
Innovation is the lifeblood of business continuity and central to the new UK Innovation Strategy: Leading the future by creating it. It calls on businesses to embed innovation-based thinking in their day-to-day operations and long-term planning as a means of re-establishing, transforming and leading a robust, agile and thriving economy.
What role can design play in enabling companies to successfully seize the opportunities of an innovation economy and create new ones? This event brings together thought leaders from across design, technology and economics, to explore the scope for design-led, people-first and inclusive approaches to business recovery, creation and prosperity in a pandemic impacted world.