Company Biography
We believe great interior design improves the quality of peoples lives.
Park Grove Design has been working to raise standards of design in care environments for over two decades. We believe in the principals of 'Inclusive Design' and design unique and inspirational spaces where there is no need for adaptations due to limited mobility, dexterity or sight. We have no prescriptive style. Instead, we interpret the needs of our clients and the style of the property into effortlessly practical, unique, aspirational interiors. Our broad supplier database assures we are able to offer value for money on projects across a wide range of budgets. Our portfolio includes projects for: McCarthy Stone, Royal Hospital Chelsea (Chelsea Pensioners), Audley Retirement as well as County Council and Social Housing Assisted Living schemes.
Park Grove's talented team produce award-winning interiors across the UK: from concept design and procurement through to installation and maintenance documents.
Work showcase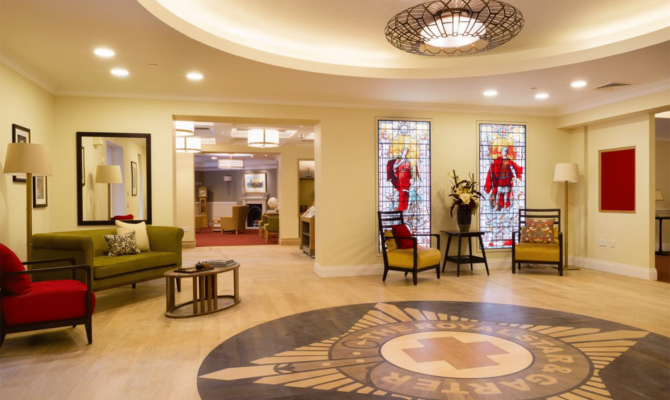 Royal Star & Garter Homes-Surbiton, 2016
The Royal Star & Garter Homes is a charity with a mandate to provide outstanding nursing and therapeutic care to the British ex-Service community.
As with all our projects, the interior design of the new Surbiton home was developed in direct response to the clients objectives. Royal Star & Garter residents are mainly wheelchair dependant or suffer from dementia. Unusually for a care home facility, the majority of residents are men. Wheelchair access, a turning radius of 1300 mm and Sterling University lighting guidelines have been used throughout.
Residents were to be relocated from a grand but no longer fit for purpose building in Richmond into a more residential and homely environment in the new Surbiton building. To maintain a link between the buildings, the tall curved stained-glass windows of the Grade 1 Listed Richmond home were photographed from top to bottom on a cherry picker, digitally flattened and printed onto Perspex panels. These pieces were back-lit using natural daylight bulbs, creating the effect of natural daylight in the large entrance foyer. Stained- glass is also an appropriate reference to the Arts & Crafts inspired architecture of the new building. Change can be difficult for some residents, especially for those with dementia and retaining significant visual markers can assist.
In the café and bar residents meet to play games on the integrated chess or backgammon tables, watch the match of the day, or relax with friends or visitors outside of their private accommodation. The bar has a chalkboard wall for leaving messages or announcing events and a magnetic pillar is positioned between the two spaces and displays notices and photos. The café's painted timber paneling was designed to highlight regimental plaques which relate to the Charity and its residents. All chairs have arms and various seat heights are offered, throughout, starting at 480mm.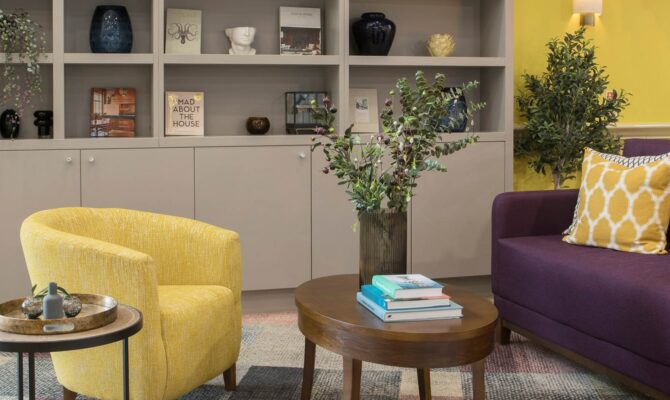 Abbeyfield-Ewell, 2020
A new build project for this well-known assisted living specialist with careful value-for-money considerations throughout project development. The entrance foyer is a double height space featuring a full-height silk tree, bespoke reception desk and comfy seating area. Inclusive design principals were used throughout to meet the needs of older people in non-conspicuous ways. All furniture features raised seat heights and there are no sharp corners on any furnishings. Color contrasts of 30 LRV (light reflective value) points were used throughout. On the mezzanine opposite the hair salon is a games area with a bespoke room divider which houses puzzles, chess pieces and more. The multi-purpose room has a bar with drinks fridge, a drop down projector for films, and black-out curtaining and comfortable stackable armchairs. On the top floor is a pool room with fully designed bar and direct access to the balcony/terrace overlooking the gardens.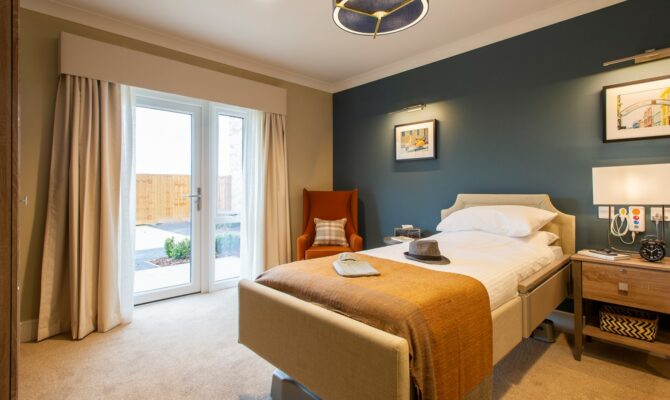 Hamberley- Wixham, 2021
Park Grove Design has designed a roll-out spaces for specialist care home developers Hamberley Care. Seven resident room designs were developed based on a theme of fashion designers, from Ralph Lauren to Biba. Ancillary areas such as the salon and nail bar are particularly well-appointed as are the assisted bathrooms with luxury spa aesthetics including fiber optic ceiling lighting and specialist lighting. The entrance cafe has a Hamberely feature red telephone box/computer area and flexible seating, allowing for special events. The schemes throughout are light, bright and fresh befitting the next generation of care home design.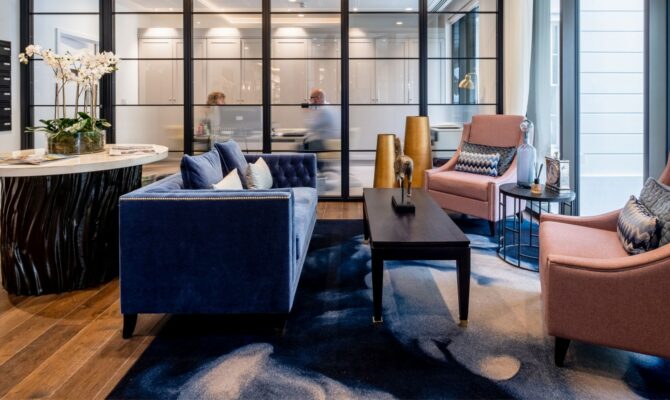 Pegasus Life-One Bayshill Road, 2018
Pegasus Life, (now Lifestory Group), appoints Park Grove Design to realise their aspirational state-of-the-art retirement living opportunities. This particular project has a cafe to rival any on the high street with solid oak counters and point of purchase sales opportunities. In addition to the lounges and library the scheme has a fully-dressed wellness area with pool, jacuzzi and dressing rooms.