Company Biography
Invisible Creations® is a business which produces attractive, dual-purpose and discreet home adaptations.
Older people have been poorly served for too long with products that are stigmatising, clinical and downright ugly. We're here to end it.
Our aim is to completely disrupt a market that fosters negative stereotypes and makes people feel vulnerable.
The key driver is prevention; our products will be installed into homes as early as possible to enable people to use them as their needs change.
By adopting this approach, Invisible Creations® aims to delay the need for formal care, reduce the financial burden on the NHS and help housing associations improve tenancy sustainment.
The vision for Invisible Creations® sets social value and social purpose at the heart of what we are trying to achieve. We recognise the significant social, economic and financial impact providing inclusive and attractive home adaptations can make on both individuals and communities.
Invisible Creations® provides an opportunity for the market to change, to provide customers with the products that they want, that they are happy to install into homes earlier, and that ultimately will support them to remain independent in their own homes for longer.
People have been at the centre of our design and business creation, to ensure that we create products that support mobility and dignity.
Invisible Creations® presents the opportunity to not only improve product design, but to improve the service delivery by installing accessible solutions into homes sooner.
We are currently working with housing associations across the UK to implement a more strategic approach to the way minor adaptations are delivered.
The housing sector has a huge opportunity to embrace and develop innovative and individual solutions that create designs for people in all their variability.
Invisible Creations® has initially targeted its core sales towards the social housing sector, however, there is a huge scope to transgress and reach a range of potential markets, including private, local authorities, the care sector, and retail and this will be reflected in our approach to design.
Work showcase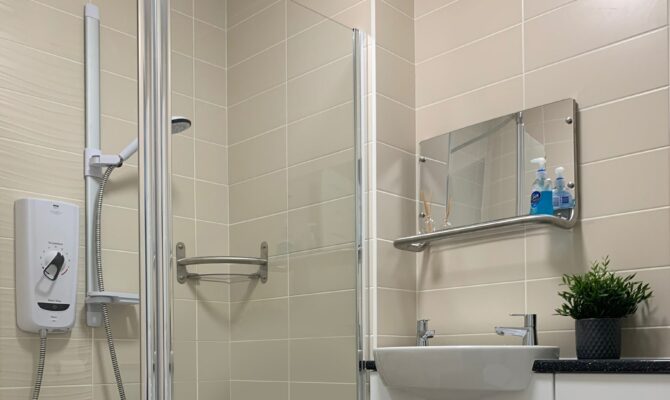 Homes that Care : Home Comforts
Home Comforts intends to research the 'best practice' 'and 'aesthetic' considerations and characteristics of desirable later life living products across the home environment. This study will carry out primary research with older age groups in addition to engaging with international ageing conversations and advancements, particularly in regards to desirable later life living. It will capture and communicate best practice, emerging themes, and opportunity areas for further development.