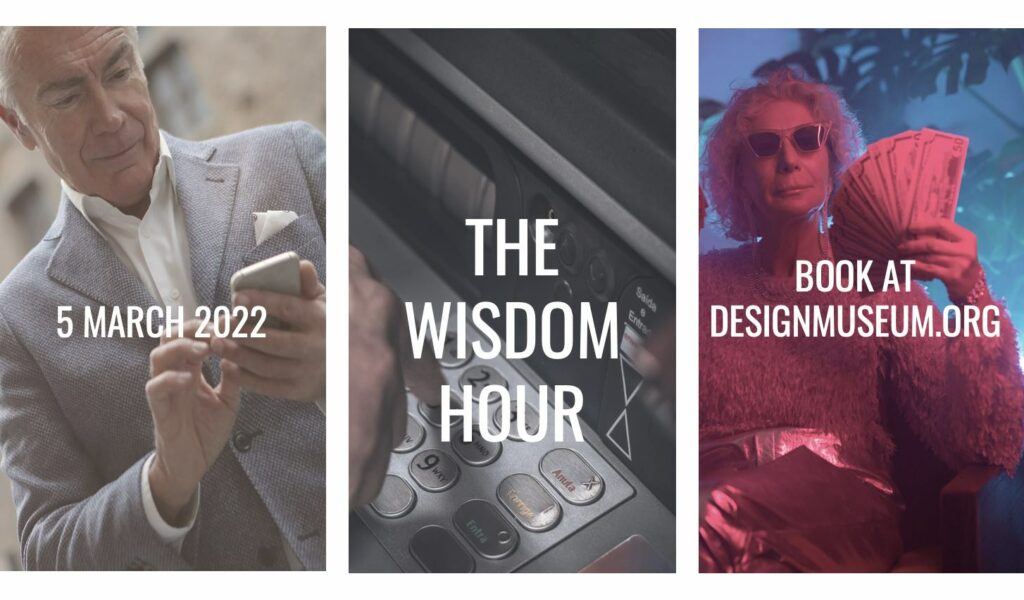 Designing an inclusive bank
Published:
Join our Designer-in-Residence Roseanne Wakely for the next session of "The Wisdom Hour" at the Design Museum on 5 March, to explore how we can design banking services for the 100 year life.
Date: Saturday 5 March 2022, 14:00 – 16:00 (GMT)
Venue: Design Museum, 224-238 Kensington High St, London W8 6AG
Book: Find out more and book at designmuseum.org
---
The Wisdom Hour invites participants to the Design Museum for a cup of tea and biscuits and the opportunity to listen, share experiences and tell stories of ageing well.
In this third session, we will explore how we can design banking for the 100 year life with designer Roseanne Wakely.
Current banking services often exclude many older users – and with more and more people living a 100 year life, there is a huge opportunity for the financial sector to rethink financial needs and banking services across the life stages.
Design Age Institute, in collaboration with the UK National Innovation Centre for Ageing (NICA), is working with designer Roseanne Wakely to explore how to design a wholly inclusive bank that can meet our changing needs as we grow older.
In this interactive workshop, she will be joined by George Lee from This Age Thing and invite you to share your knowledge and experiences of banking, the types of products, services and security you want from a bank. All are encouraged to contribute with stories and ideas to help reimagine financial services to support our future selves.
Get involved to discuss:
• Do our banking needs change as we get older? Do life transitions / major life events change what we need from our bank?
• Do you feel that your bank values you and your individual needs?
• How do you access your bank? Do you use an app, a live chat, a phone call, do you go into a building, would you prefer face to face?
• Do you trust your bank to protect your privacy and security?
#AgeAgencyJoy
#WeAreAllAgeing
#WisdomHour